Vancouver, Wash. – March 2017 – Lennar will bring 24 new homes to Vancouver when they grand open Firestone Park later this summer. This community offers prospective buyers three distinctive floorplans to choose from in two-story designs.
"With only 24 homesites, these homes are sure to sell quickly. We've brought some of our most desirable floorplans to this great Vancouver location." Sia Howe said, Marketing Manager for Lennar Portland. "Those interested in our homes should join the interest list, as these will go fast!"
The Sellwood plan is offered at this community and it spans 3,422 square feet that includes five bedrooms, three bathrooms, a den, large bonus room and master suite complete with a retreat and dual walk-in closets. The downstairs features an open concept great room that effortlessly connects the dining room, great room and gourmet kitchen with a large island.
The Mulberry plan provides 2,557 square feet of living space that includes three bedrooms, two-and-a-half bathrooms, a downstairs den and master suite, upstairs super-sized bonus room and a three-bay garage. The open concept great room effortlessly connects to the gourmet kitchen with huge center island and dining area.
The Marquam is another spacious home. Boasting 2,892 square feet, it provides five bedrooms, three bathrooms, a huge open-concept great room, upstairs loft and a three-bay garage. A downstairs bedroom allows for versatility and could easily be converted to a home office, den or study.
Lennar's Everything's Included® program adds tremendous value to all the new homes at Firestone Park by including a high level of standard features at no additional cost. Among these items at Firestone Park is solar packages, air conditioning, tankless water heaters, granite countertops and more.
The interest list for this community is now forming. Prospective buyers should sign up to be informed as pricing, events and updates are released. To sign up, visit https://www.lennar.com/new-homes/washington/vancouver/vancouver/firestone-park/.
With hundreds of communities nationwide and homes designed for first-time, move-up and luxury homebuyers, Lennar has grown to become one of the nation's leading and most respected homebuilders. Lennar has a longstanding history of building homes of enduring quality in only the most well planned and desirable locations throughout the country.
The Pacific Northwest region is unlike any other! Set in the backdrop of the Cascade and Olympic Mountain ranges, in between the coast of the Puget Sound and the shores of Lake Washington, is the majestic Seattle area. With its natural beauty, robust economy and friendly occupants, the Pacific Northwest is a highly-desirable place to call home.
1. No Income Tax! 
No kidding…Washington State is one of only seven U.S. States that don't currently have an income tax.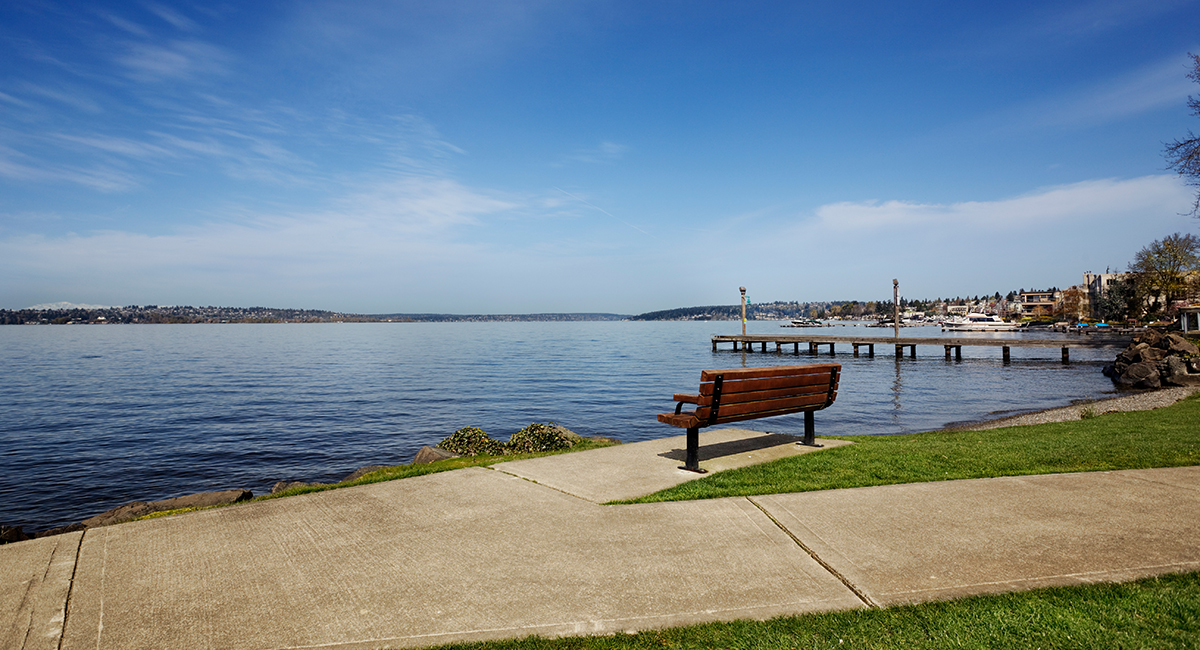 2. It Doesn't Rain That Much! 
Really, it's true! Despite what you may have heard studies show Seattle ranks as the 44th on a list of the wettest U.S. cities by rainfall. Not too shabby!
3. It's a Tech Paradise.
Ample tech-based companies such as Microsoft, Amazon, Expedia and more all call Seattle their home base. Seattle has surpassed New York as the third best Tech Market in the nation, behind only San Francisco and Washington D.C. Plus, the cost of living in Seattle is not as high as other well-known Tech Cities, making it an ideal place to live for anyone with a tech occupation.
4. Not Everyone From Seattle is From Seattle.
It's just easier to say you're from Seattle although what we really mean is (said in the voice of Buzz Lightyear), "To Seattle…And Beyond!" Don't get me wrong, with over 655,000 residents, The Emerald City is nothing to scoff at. But more than 3.5 million people inhabit the greater Seattle Metropolitan area and call "Seattle" home.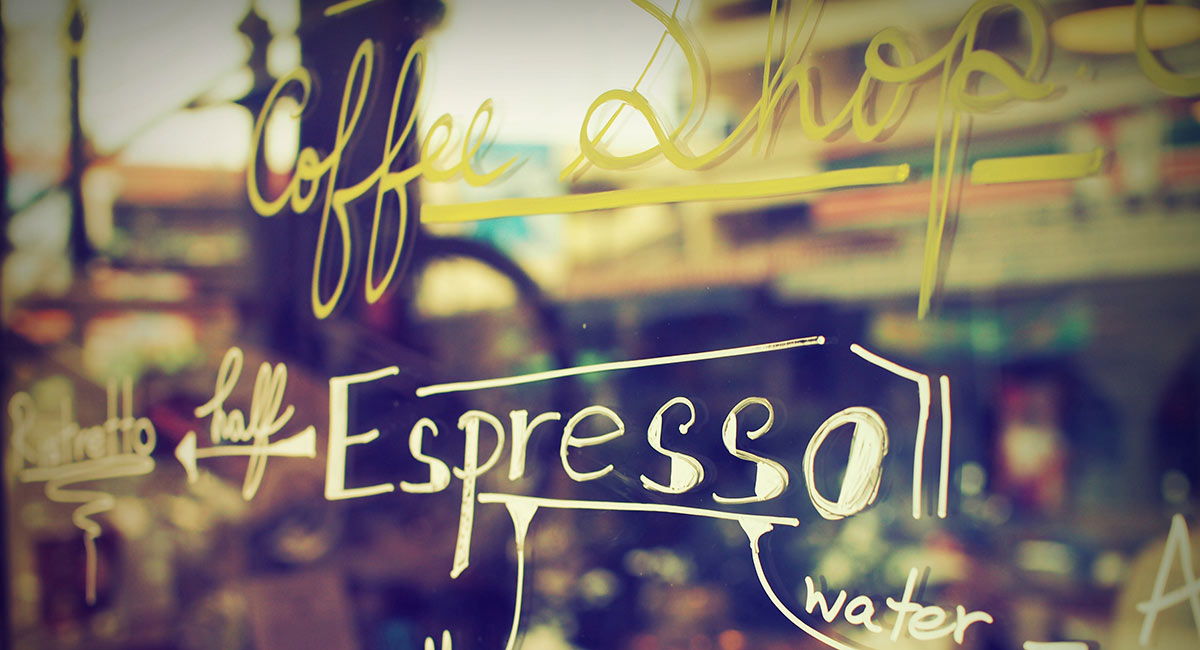 5. Coffee, Beer and Delicious Eats!
Seattle is serious about their coffee, their beer and their extensive options for tasty food! From the famous Starbucks brand to the tiny Bigfoot Java, a million microbreweries and nationally recognized top-notch seafood and cuisine, there's something for everyone.
6. Nothing Beats a Seattle Summer.
Crystal blue skies and warm sunny days that don't get too hot make the area perfect for enjoying outdoor recreation. From hiking to boating, there's plenty of day-trip excursions to explore in the great outdoors.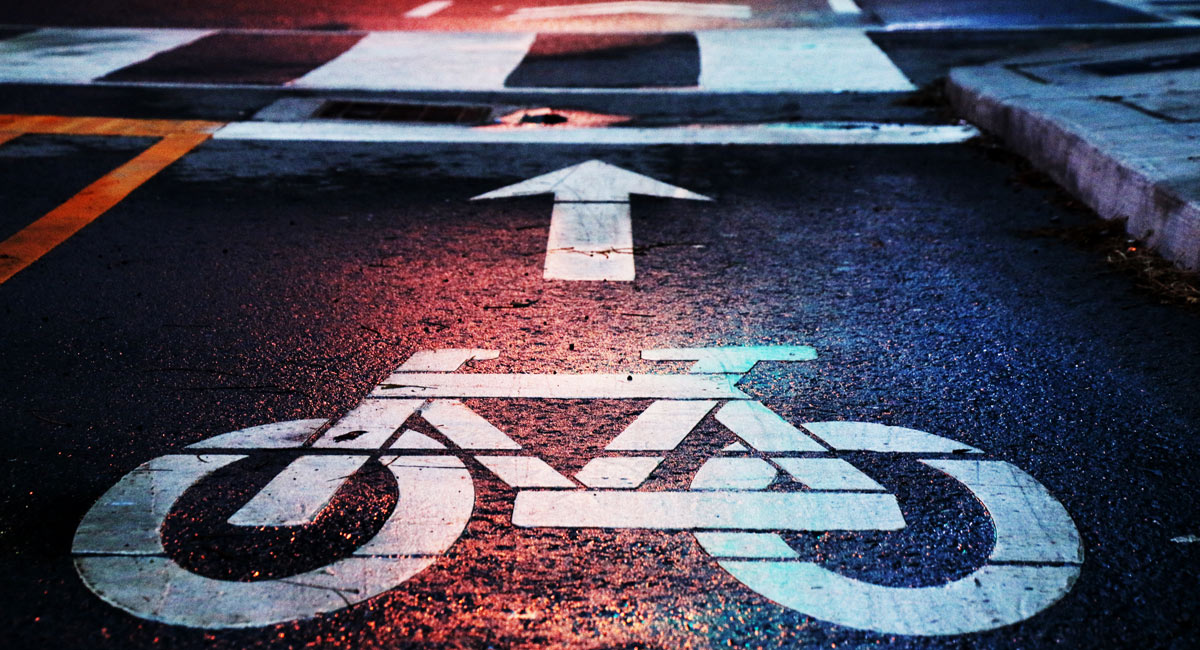 7. Bikes are Welcome.
The Seattle area is known for a vast network of bike lanes, shared paths, and plenty of bike-friendly trail systems. Cyclists from around the country have voted Seattle one of the best biking cities in the U.S.
8. It's a Team Sport.
From the earthquake-inducing roars on Sunday during Seahawk season, to the casual hot-dog eating crowds watching the Mariners, to the scarf-yielding cult-like following of the MLS Sounders, sports are in the blood of any given Seattlelite. 
9. A Commitment to the Arts.
The arts preserve unique culture and heritage, foster young imaginations, create jobs and nurture a welcoming sense and a desirable quality of life. Seattle has a vibrant art community with a positive social impact on the region.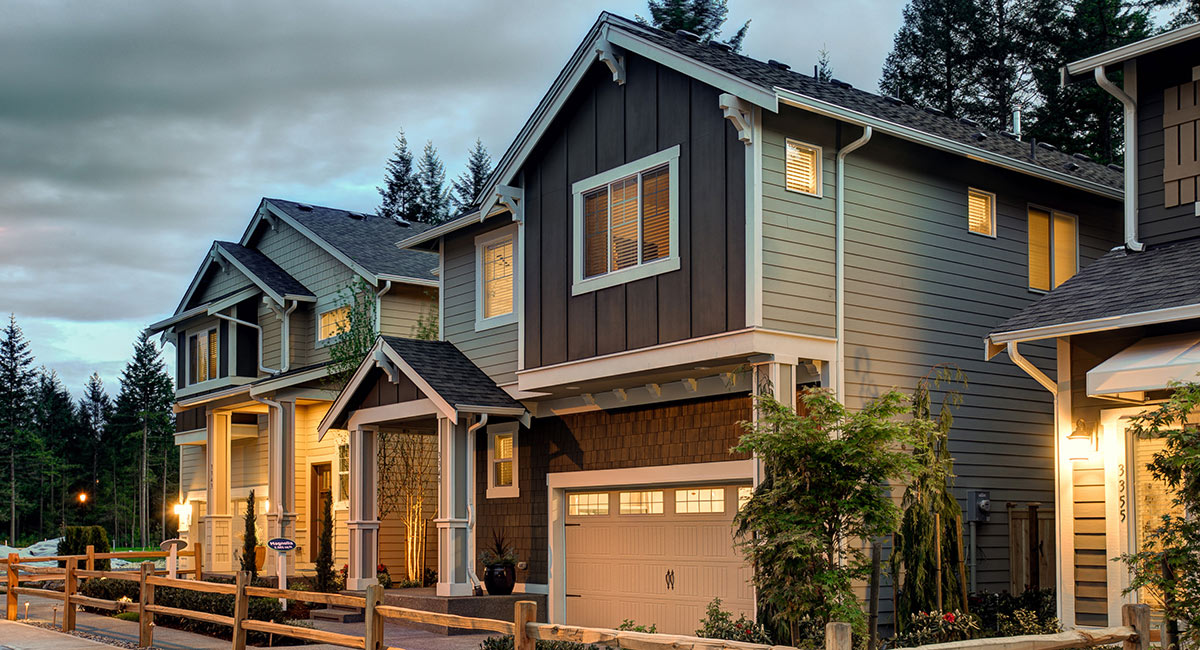 10. Lennar Knows the Area.
The Seattle Division of Lennar has grown up in this community and knows the areas intimately. With over a dozen active communities across the region, Lennar Seattle builds the best homes in the best neighborhoods and includes the very best features!
No matter what the weather is like in your area, one thing is sure, the spring housing market has begun at full speed. With this year's economic growth, consumers are more confident about buying a home. If you're considering purchasing a home this year, sooner may be better than later according to this recent Realtor.com article by Jonathan Smoke.
January and February saw rates in line with what we saw at the end of 2016. But in the last two weeks, we've seen the average rate for a 30-year conforming mortgage increase by almost a quarter of a point. That's because the market is expecting the Federal Reserve to raise short-term rates when the board of governors meets this week.
Mortgage rates will likely stay close to this level until we hear more about additional rate increases later this year. The expectation is for three increases this year. If economic data continue to show growth in inflation and wages, those three increases could actually become four.
This means that rates will continue to rise—we're more likely to see movement of 10-25 basis points in one- to two-week spurts, as new data and new comments from the Fed indicate rate policy changes are imminent.  Those spurts will likely be followed by weeks with little change in rates.
The upside of higher rates is that it is getting easier to get a mortgage. The most widely followed measure of mortgage credit access from the Mortgage Bankers Association indicates that access has expanded 6.5% since September.
Arguably the biggest challenge to buyers this spring will be simply finding a home to buy and getting it successfully under contract. That's because the supply of homes for sale is at an all-time low, and yet demand is strong and getting stronger.
[Read the full article here]
North Plains, Ore. – March 2017 – This summer Lennar will grand open Kemmer Meadows, a new home community set in picturesque North Plains. This community's priority interest list is now forming and prospective homebuyers are strongly encouraged to join. With three distinctive floorplans for homebuyers to choose from, new homes at Kemmer Meadows are anticipated to start in the $400,000s.
"We are so excited about this upcoming community," Sia Howe said, Marketing Manager for Lennar Portland. "These are some of our most popular floorplans and these spacious homes provide lots of room for busy families, working professionals and a whole variety of family types."
The Marquam plan at Kemmer Meadows is a two-story home that boasts 2,892 square feet of living space. With five bedrooms and three bathrooms every member of the family gets their own space. A downstairs bedroom is a perfect spot for overnight guests. An upstairs loft provides an additional living space. The three-bay garage provides plenty of storage space.
The Larwood plan spans 2,448 square feet of space that includes four bedrooms and three bathrooms. A downstairs bedroom is perfect for overnight guests or to convert into a home office or den. An upstairs loft is a great secondary living space. The gourmet-inspired kitchen includes a built-in tech space. The Larwood also includes a three-bay garage.
The Willow plan will also be offered at Kemmer Meadows. This home provides 2,303 square feet of living space that includes three bedrooms and two-and-a-half bathrooms. A super-sized upstairs bonus room provides versatility by easily functioning as a fourth bedroom. The downstairs includes a study and open-concept living area that includes the gourmet kitchen, nook and great room. This home also has a three-bay garage.
Every home at Kemmer Meadows is part of Lennar's Everything's Included® plan. Originally created as a way to simplify the new home buying process, it puts today's most popular upgrades and features into every new home as standard. So that new Lennar homeowners can enjoy their dream features without having to pay extra.
This community is planned to celebrate its grand opening this summer. To sign up for the interest list and to view floorplans, please visit https://www.lennar.com/new-homes/oregon/portland/north-plains/kemmer-meadows.
To view new homes for sale throughout the Greater Portland area, please visit https://www.lennar.com/new-homes/oregon/portland.
With hundreds of communities nationwide and homes designed for first-time, move-up and luxury homebuyers, Lennar has grown to become one of the nation's leading and most respected homebuilders. Lennar has a longstanding history of building homes of enduring quality in only the most well planned and desirable locations throughout the country.
If there comes a time in your life that you need to upsize your residential living space because your family has or inevitably will outgrow your current dwelling, a Lennar  home is the ideal move-up property. Lennar is the country's first production homebuilder to offer a home specifically designed to accommodate multigenerational occupants. Imagine two homes under one roof – a balance in privacy and togetherness, independence and accessible help; Lennar's multigenerational homes allows large families to live together without the sacrifice of personal space and comfort.
Could a new home meet your residential needs? If so, how do you know if (or when) you are ready to buy a new home? Purchasing a home necessitates a two-part strategy: One part life and one part financial. Let's go over the benefits of owning a multigenerational home and examine some key considerations in undertaking this investment.
Life Strategy
Purchasing a home requires a long-term commitment. Homeowners are advised to live in a new home for a minimum of three to five years before they turn around and sell; however, it can take at least five years to break even on the market and seven years to see a profit, considering the money one spends on a newly-procured property (e.g., closing costs, mortgage payments, maintenance and renovation expenses). If you do not envision yourself staying put in a new home for an extended length of time, you may want to consider your own vs. rent options on a residential space until you decide the driving factors – career, location, family size, and cost, to name a few; but, life has a funny way of throwing us curve balls that strike out our near-perfect plans.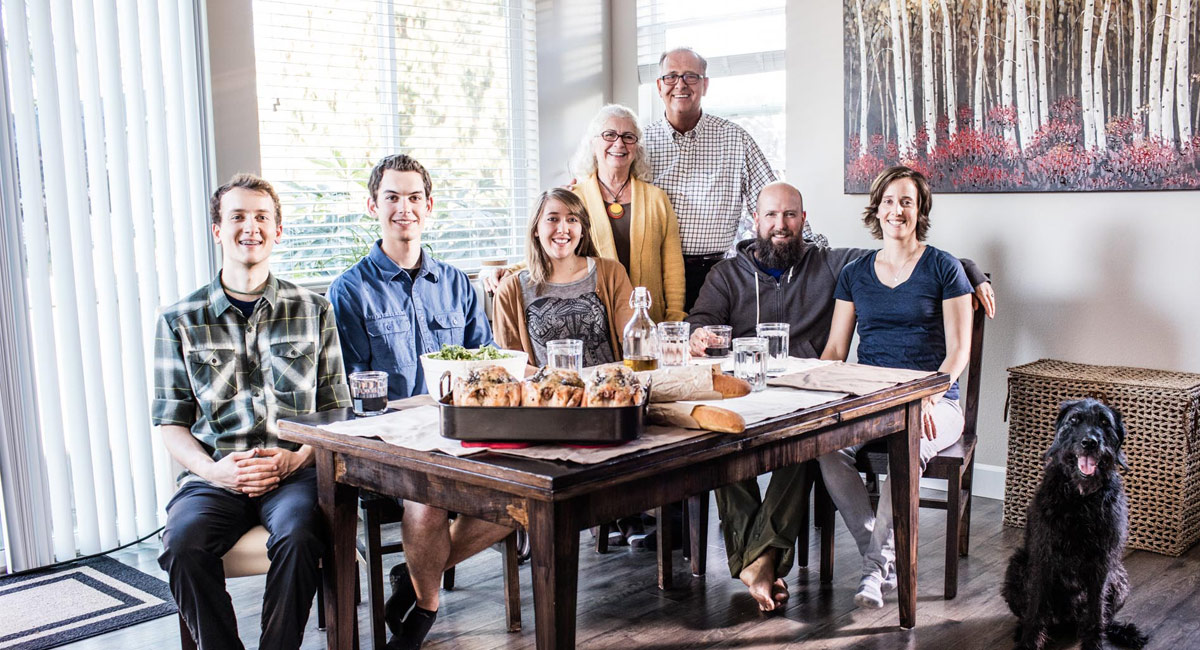 Imagine the following scenario: Your father-in-law can no longer live independently and needs looking after, but a facility for assisted living costs too much, and there is simply no room for him in your small family home that currently tends to you, your spouse, your children, and maybe one or two pets. What can you do to see he is properly cared for? Another situation: Your daughter has special needs that prevent her from venturing out on her own, but you still want her to lead a life that is semi-independent. How do you grant her freedom, but keep her close to home? Or maybe you are a self-starting business owner who desires to work from home rather than rent an office space; at the same time though, you want to conduct your enterprise in peace, cancel out any noise your family can muster to disturb you or visiting clients. How do you achieve this without operating out of the garage?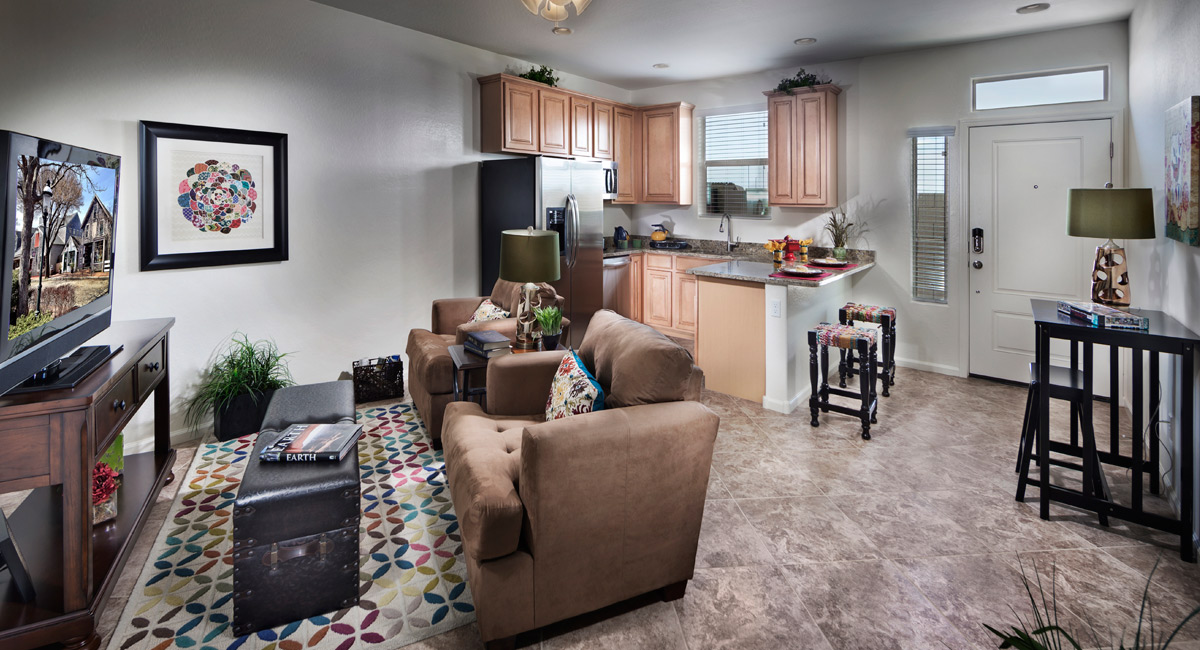 Besides offering an opportunity to share one's home with those one cares about, The Home Within a Home can afford homeowners various financial and logistical benefits. The design concept of two homes under one roof allows for a shared mortgage and combined utility bills; you will never have to pay two monthly statements for insurance, taxes, electricity, water, cable, and the like because each source of debt will have one levied sum for the entire edifice. In the same manner, maintenance fees and yard care costs will be feasible because you are maintaining a single property. With your family member(s) living closer than next door to you, you save money on transportation – no more plane tickets or gas mileage; furthermore, if the grandparents live under your roof, your child(ren) no longer need(s) a hired babysitter. Lastly, the resale appeal on a multigenerational home is rising with the growing populace of America; if you decide to move up into another home, you may receive a substantial financial return on the market for your Home Within a Home.
Financial Strategy
Once you are confident that life deems you fit for homeownership, your initial consideration in the home-buying process is affordability. How much home can you afford? Offhand, you may not know, but to help you discover the answer, I have broken down the financial strategy of the home-purchasing process into three necessary topics of discussion: Debt, Savings, and Credit.
Part 1 – Understand Your Standing Forms of Debt
Whether you are a first-time homebuyer or an experienced homeowner, you need to ask yourself, "Do my current financial commitments prevent me from procuring a new home?" The initial investigation of your fiscal stability begins with the calculation of your debt-to-income (DTI) ratio to discover what portion of your gross income covers housing costs and other forms of debt, such as car payments, credit card balances, or child support. An online affordability calculator can help you calculate your DTI ratio.
A mortgage is perhaps the largest fiscal obligation you can assume, and if you are presently a homeowner with an unpaid mortgage, you need to uncover your current mortgage payoff if you plan to sell your old home. Your mortgage payoff is different from your mortgage balance; the payoff statement you receive from your loan officer will disclose the standing loan balance, in addition to incurred fees and any interest you may owe up to the day you pay off the loan. Share this value with your real estate listing agent so that you both know how much your home needs to sell for to satisfy the unsettled mortgage balance. Once your old mortgage is paid off, any capital left over from your home's resale value goes in your pocket or toward the down payment on your new home.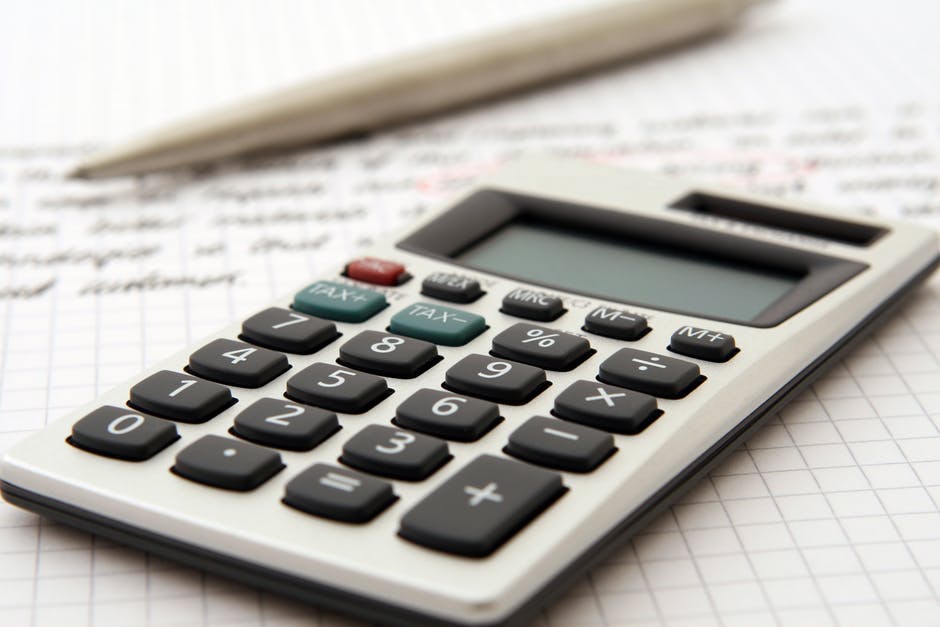 Part 2 – Start Saving, If You Haven't Already
As with most sizable investments – a home being one of the grandest, you need to save money. Lenders will review your bank statements for available funds to cover a down payment and successive monthly mortgage dues; they will also note routine saving activity and/or any accounts of overdraw. Essentially, the loan officer is assessing how well you manage your money to determine the level of risk associated with extending you a loan.
In the pursuit of buying a new home, you may consider maintaining two separate savings accounts. The first is reserved for the down payment on your next residential living space; if you wish to avoid higher interest rates on your monthly mortgage fees and the purchase of private mortgage insurance (PMI), be sure to set aside enough capital to secure 20% equity. The second account serves as an emergency fund for surprise home maintenance fees, moving expenses, utilities, homeowners association (HOA) fees, property taxes, and insurance; no one can predict the future, so setting up a fiscal defense against unexpected forms of debt is prudent.
For more information, see the following:
How to Budget for Your New Home (Before You Live There)
Part 3 – Improve Your Credit Score
Your credit report reveals your credit score – a three-digit number ranging from 300 to 850 that tells a lender your creditworthiness. Your credit report provides a thorough documentation of your credit history, including paid and unpaid debts, bankruptcies, liens, civil judgements, and collections, allowing your loan officer to conjecture how likely it is that you will pay back the money you owe them, based on these chronicled accounts of your past borrowing behavior. A free copy of your credit report is available to you at Annual Credit Report online.
Lennar's The Home Within a Home® is a solution built for big families that wish to happily live together under one roof without compromising their comforts, privacy, and independent living. More than that though, tThe Home Within a Home suite is available to you to use as guest quarters, an office, a home-schooling space, a studio, or personal gym; finally, your home can conform to your altering life circumstances. For more information on The Home Within a Home and a chance to read the stories of current homeowners, click here.
Tips for being the new neighbor: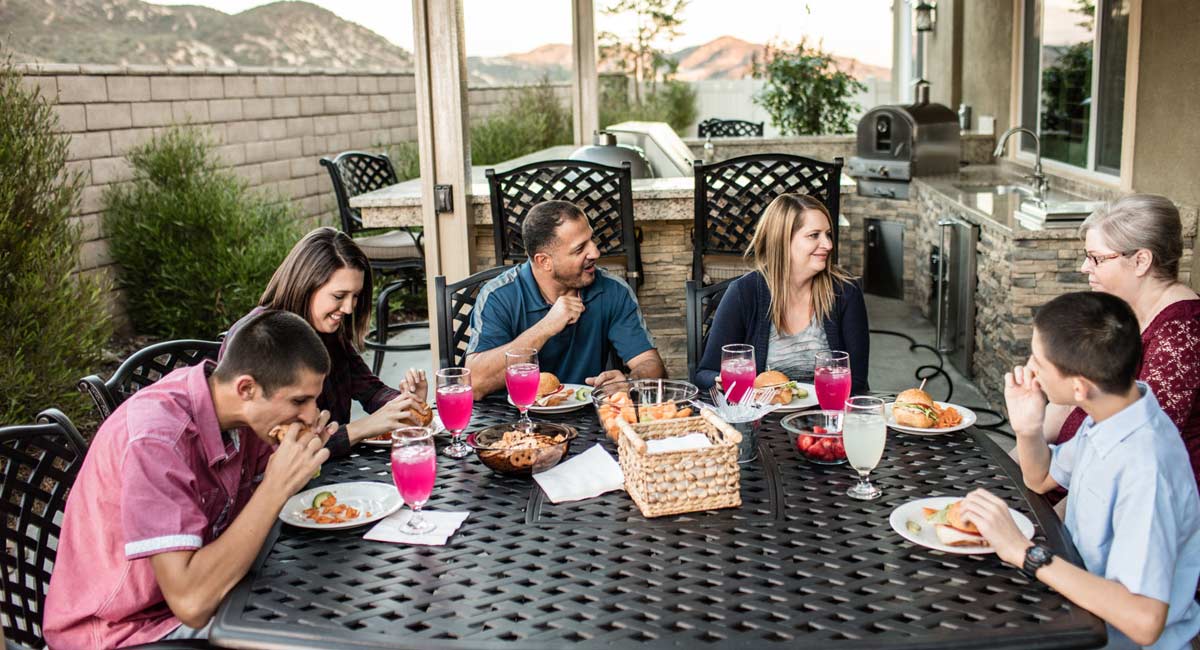 Host a housewarming party
Once you've settled into your new space—unpacking and decorating complete, consider hosting a housewarming party. This is the perfect opportunity to invite all your new neighbors over to help celebrate your new home!
With good food, drinks, and music, you can have a night filled with entertainment and fun as you begin to create memories in the new place that you call home. If you feel you might need more time to decorate and organize the inside of your home, you can consider throwing the party in your backyard or front porch.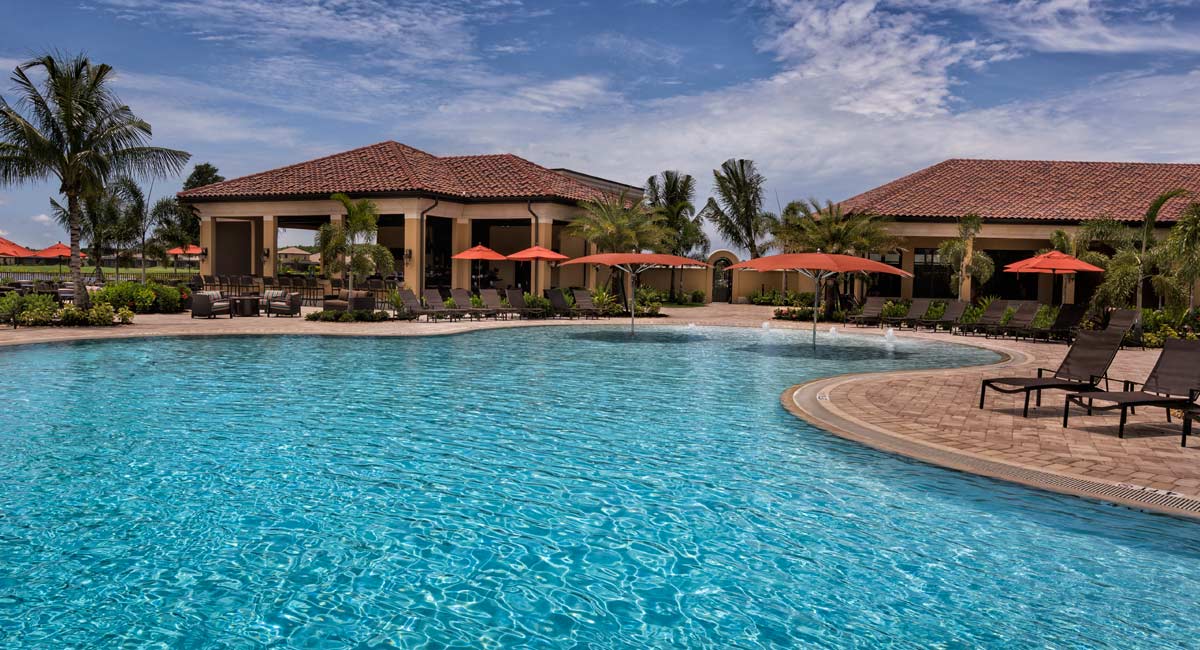 Get involved in your community
Community clubhouses can offer a variety of both indoor and outdoor activities during the week and weekends. Whether you participate in a workout class or attend a social event, it's a great way to connect with people who live in your neighborhood beyond just your next-door neighbors. If you're interested in learning more about activities or social events in your neighborhood, you might consider finding out if there is a community website or Facebook page available.
Take time to learn more about your neighborhood Homeowners Association (HOA), if it applies to your neighborhood. You can consider volunteering or joining your HOA to learn more about the rules and regulations in your neighborhood. You are bound to meet other neighbors involved and become more aware about the community you live in.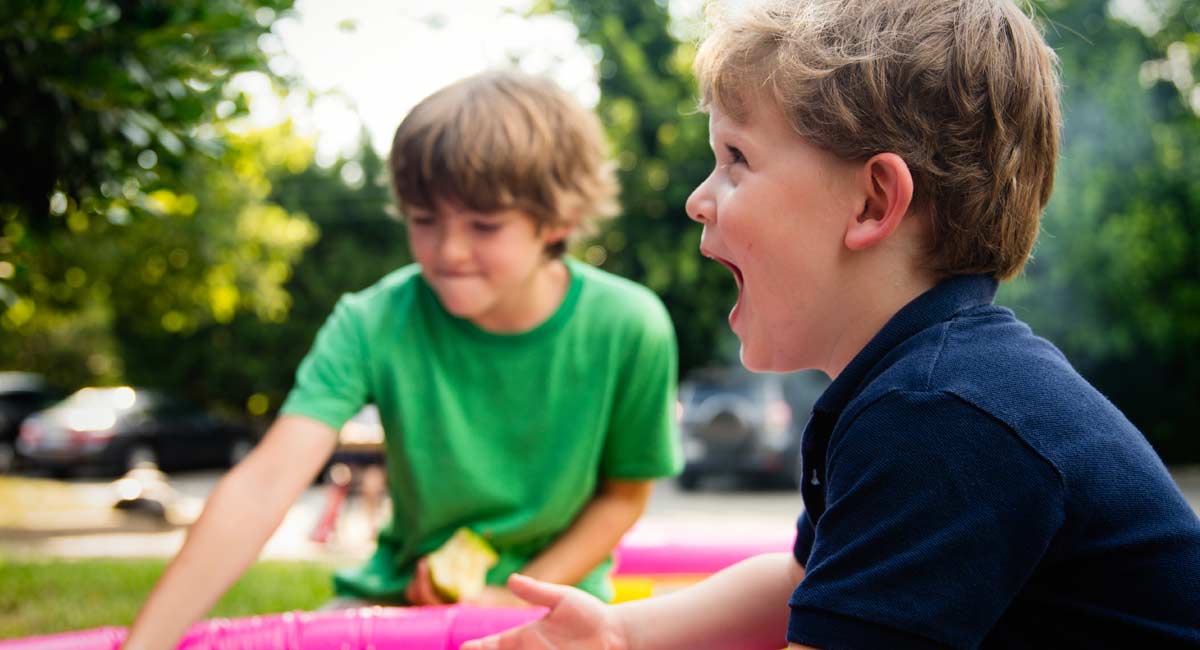 Introduce your kids to the new neighbors
If you have kids, don't forget to take them along as you introduce yourself to the neighbors. If you find that there are other kids who are the same age as your own, you can arrange a play date—a simple way for you and your kids to make friends with the new neighbors.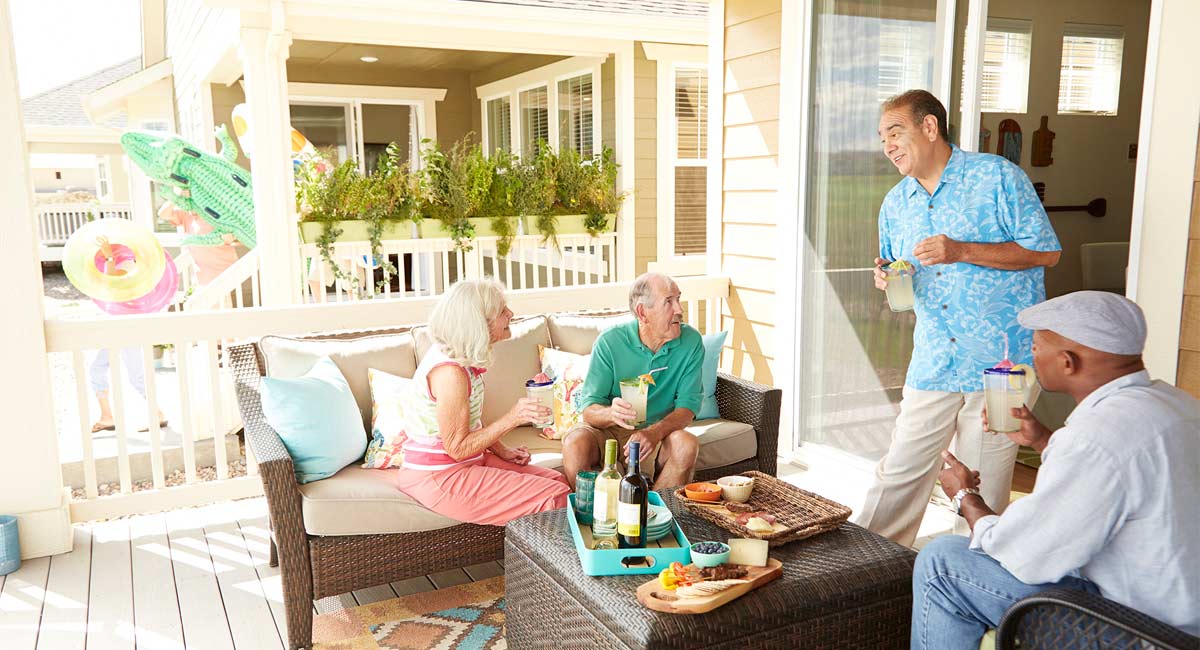 Spend more time outside:
Whether it's washing your car in the driveway, gardening or simply enjoying a book on the front porch, finding a hobby to do outside of your home is a great way to more easily run into your neighbors. Spending time outside of your home can give the impression that you are enjoying the neighborhood you are living in and that you are open to meeting the people who reside there!
Tips for getting a new neighbor: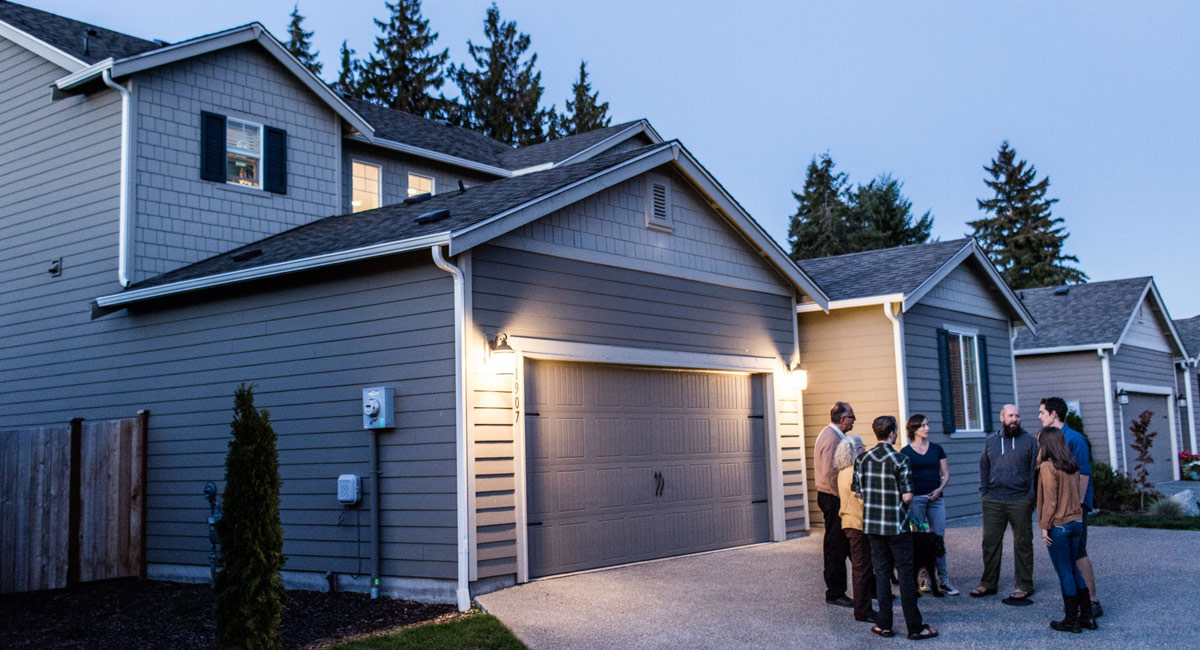 Welcome new neighbors:
This may sound like an obvious tip, but you'd be surprised how much a simple welcome can be appreciated by your new neighbors.  Making the first gesture of welcoming your new neighbors can help take a lot of pressure off them and let them focus on unpacking and moving into their new home.
An introduction won't take much effort as they will most likely be busy the first few weeks of moving, but it can make for a good first impression. You can exchange names, and arrange a time to meet in the near future for dinner, drinks, etc.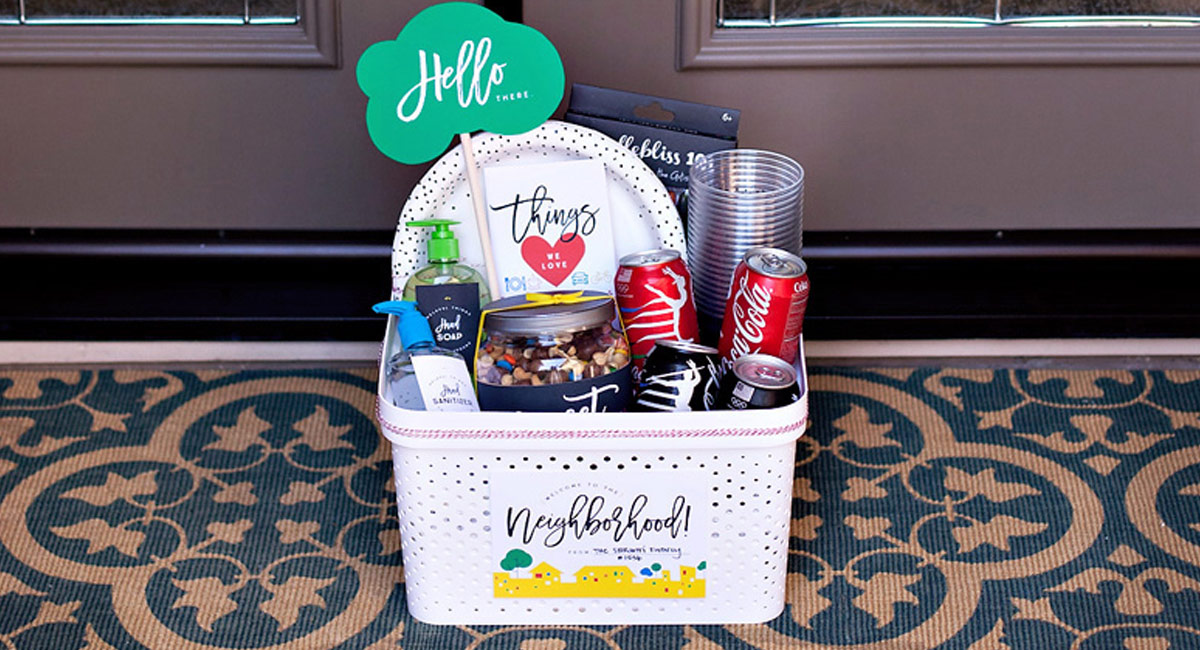 New neighbor gift/care package: 
Making a gift or care package is a thoughtful way to introduce yourself and give a warm welcoming to your new neighbor. You can put your own personal touch on the gift and offer them something that will be useful to them in their new home.
Whether it's store-bought or handmade, it's a gesture that can mean a lot to your new neighbors! And, they just might pass along the idea as they get a new neighbor down the road.
You can check Pinterest for a variety of new neighbor care package ideas.
Offer help/advice: 
Be courteous to your new neighbors (as we hope they are to you too), and try to offer your help or advice as much as you can as they begin the transition into their new home and neighborhood.
Simple tips on what stores and restaurants are nearby, as well as keeping them up to date of any neighborhood news can be helpful to new homeowners. Try to think back to the moment when you first moved into your home and what advice you might have found useful during that time.
What tips have you tried to meet your new neighbors? Share in the comments below! 
San Antonio, TX–Lennar San Antonio has opened a new model in the Heights of Cibolo on FM 1103 in Cibolo.
 This revolutionary home design, pioneered by Lennar, gives families excellent options for multigenerational living. The Heights of Cibolo's model home features the Giallo II floor plan from the popular Brookstone II Collection. The main home features three bedrooms and three baths within an open, flowing floor plan with the third bedroom and bath located upstairs with a loft great for an older child's study area. Connected to the main home, the private suite has its own living room and kitchenette with a laundry area, a private bedroom and a private bath with a walk-in shower, perfect for older adults. The main home and the private suite each have their own front door for privacy but also share an interior door for togetherness. This floor plan is perfect for an aging parent or another family member to share the home with your family, a hobby area, an expanded guest suite, a home office—the possibilities are endless!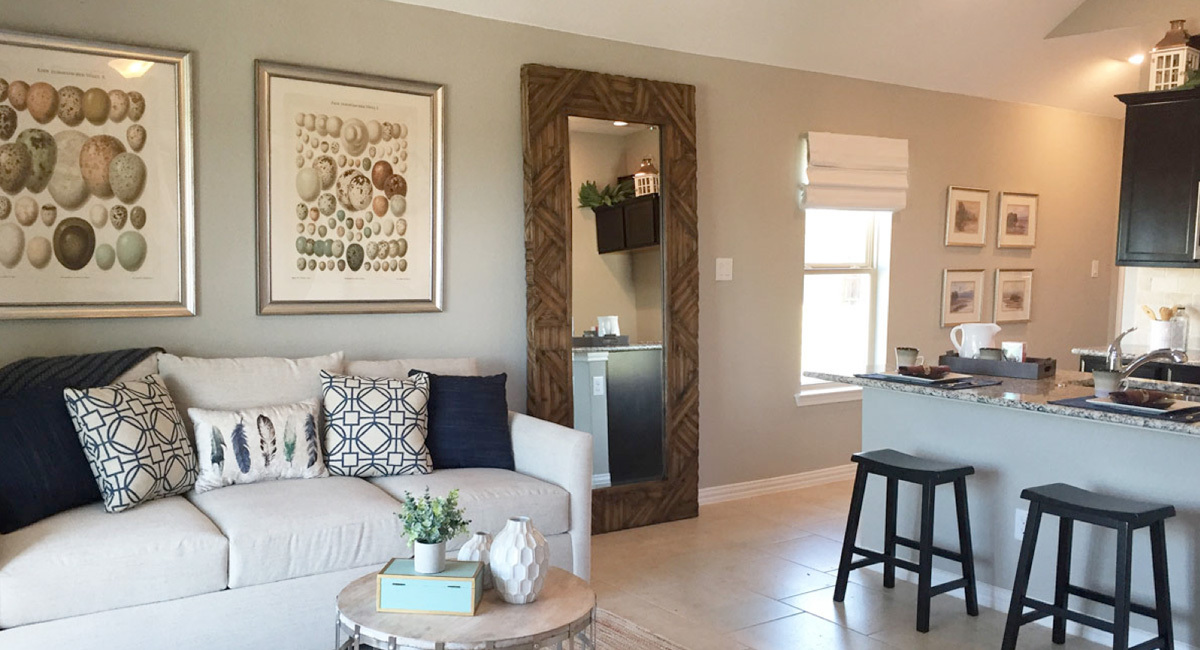 "Family members can choose to spend time together, or they can simply enjoy their own private space," Tony Cerna, III, Director of Sales and Marketing for Lennar San Antonio, said. "The plans' flexibility offers both closeness and privacy and far more than just a casita."
This revolutionary home concept also helps with family finances. "One mortgage, one set of utility bills and one home to maintain make for a cost-effective alternative to two homes," Cerna said. "The Home Within a Home can assist parents with fixed incomes or adult children who are just starting out in life."
This established community already has a pool, clubhouse and playground for residents to enjoy, as well as open green space for games. The Heights of Cibolo offers wonderful family amenities, while being close to nearby conveniences.
 "FM 1103, within the Schertz-Cibolo-Universal City ISD, has excellent proximity to IH-35," Cerna said. "This community is close to shopping at The Forum, as well as San Antonio employers, Randolph Air Force Base and the small-town, family-friendly charm of New Braunfels."
Lennar offers many luxurious touches as standard in this Everything's Included community, including GE Energy Star appliance packages, granite kitchen countertops, covered patios and much more. As with other Lennar Everything's Included communities, features like landscaping, irrigation systems, blinds and more – items that other builders would charge extra for—come with the home. All Lennar San Antonio homes are also ENERGY STAR™ certified and go through a rigorous third-party inspection process throughout the building of the home.
 Lennar and its luxury brand Village Builders offer  plans for homebuyers to build from the ground up at 13 communities across the greater San Antonio area. To learn more about building a new home, call our Internet Sales Consultant at 210-393-8095.
 Models are open daily from 10am-6pm (opening at Noon on Fridays and Sundays).
To visit The Heights of Cibolo, from IH-35 North and Loop 1604, take IH-35 north and exit at FM 1103. Turn right on FM 1103. Continue for two miles, and turn left into the community on Cibolo Heights. Turn right on Sunset Heights. The Lennar  model home is located at 114 Sunset Heights, Cibolo, TX, 78108. Call 210-839-2286 for more information.
  About
 Lennar is one of the nation's leading homebuilders with over 60 years of experience building homes and communities across the country. Founded on the continuing principles of quality, value and integrity, Lennar builds new homes for first-time and move-up buyers, as well as retirees. Lennar San Antonio offers energy-efficient new homes for sale currently starting from the $170's to the $380's and ranging from 1,242 sq. ft. to more than 3,300 sq. ft. in communities across the greater San Antonio area. Discover the revolutionary new homes at communities across San Antonio. For more information on Lennar, visit Lennar.com.
A beautiful yard is something to be proud of, but the workload you shovel to create an attractive landscape may internally stir you to throw your hands up and say, "It's not worth it." All the time, energy, and labor you pour out to achieve eye-pleasing curb appeal, to build an outdoor space that invites you and guests to stay outside – does it make you bitter? If so, the feeling is understood and shared by many; yes, you are not alone in the resentment of yard work. You should spend more hours enjoying and appreciating your yard instead of working to make it "pretty." Here are seven low-maintenance landscaping tips to help relieve the stress of caring for your outdoor space(s), to make the look and feel of your front yard and/or backyard more manageable.
Low-maintenance turf grasses cut down mowing, weeding, and fertilizing efforts due to their deep, intricate root systems. Certain species adaptably grow under full-sun exposure or in partly- or deeply-shaded spaces. Moreover, Eco-Lawn, UC Verde Buffalo Grass, No Mow Lawn Mix, and similar non-demanding turf grasses prove hearty in low-water conditions, improving both your water bill and carbon footprint.
Additional Source:
5 Low-water Lawns that Stay Green Under Pressure

Repeatedly close-cut mowing the grass puts your lawn at risk for pests, weeds, and disease. Instead, trim no more than 1/3 of the grass blade length once a week; this allows the grass to maintain its rate of photosynthesis and cope with environmental stresses such as drought or high heat indexes.
Tip: Leave the grass clippings evenly scattered along the lawn once you are finished mowing. Known as grass cycling, the clippings are high in water content and return essential nutrients and nitrogen to the lawn.
Additional Source:
Understanding the "1/3 Rule" of Mowing
Mulch – organic and inorganic – are favorably used in flowerbeds and fruit/vegetable gardens because of their ability to retain moisture in the soil and reduce weed growth. Inorganic mulches – pebbles, crushed rock, plastic or rubber materials – are preferable for the very low-maintenance gardener; however, organic mulches – hardwood chips, grass clippings, or crushed leaves – nourish the soil during decomposition and harbor beneficial organisms that regulate harmful bacteria and pest populations. Furthermore, organic mulches prove more valuable during seasons with characteristically high and low temperatures, acting as natural insulators that keep the ground cool in the summer and warm in the winter.
Additional Sources:
Best Mulch Types – Choosing the Right Mulch for a Garden
Organic Mulch vs. Inorganic Mulch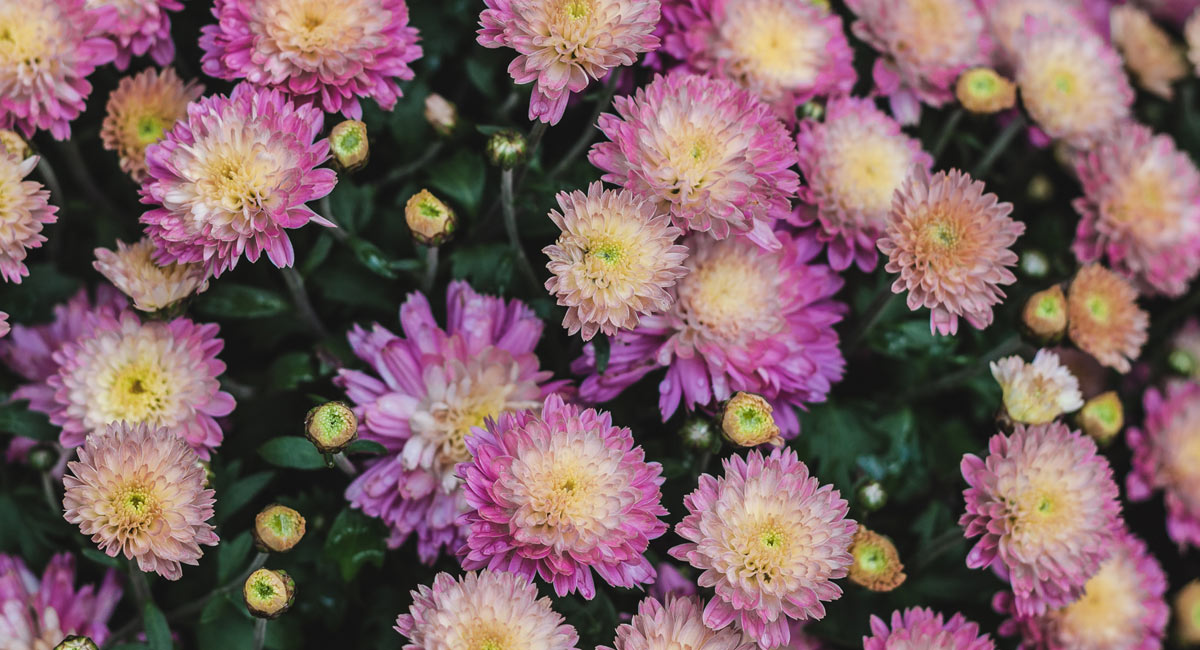 Planting perennials can save you time, money, and frustration with each turn of the spring season. Unlike annuals, which live for a single 12-month term, perennials repeatedly blossom for several years. Every winter, the perennial's surface structure (i.e., the stock and bloom) withers away, but its rootstock stays alive, and it is from this that the successive spring flowers, crops, or greenery come forth.
Additional Sources:
10 Low-maintenance Perennials by Heather Leister
Top 10 Low-maintenance Perennials by Birds and Blooms
13 Low-maintenance Perennials by Julie Martens Forney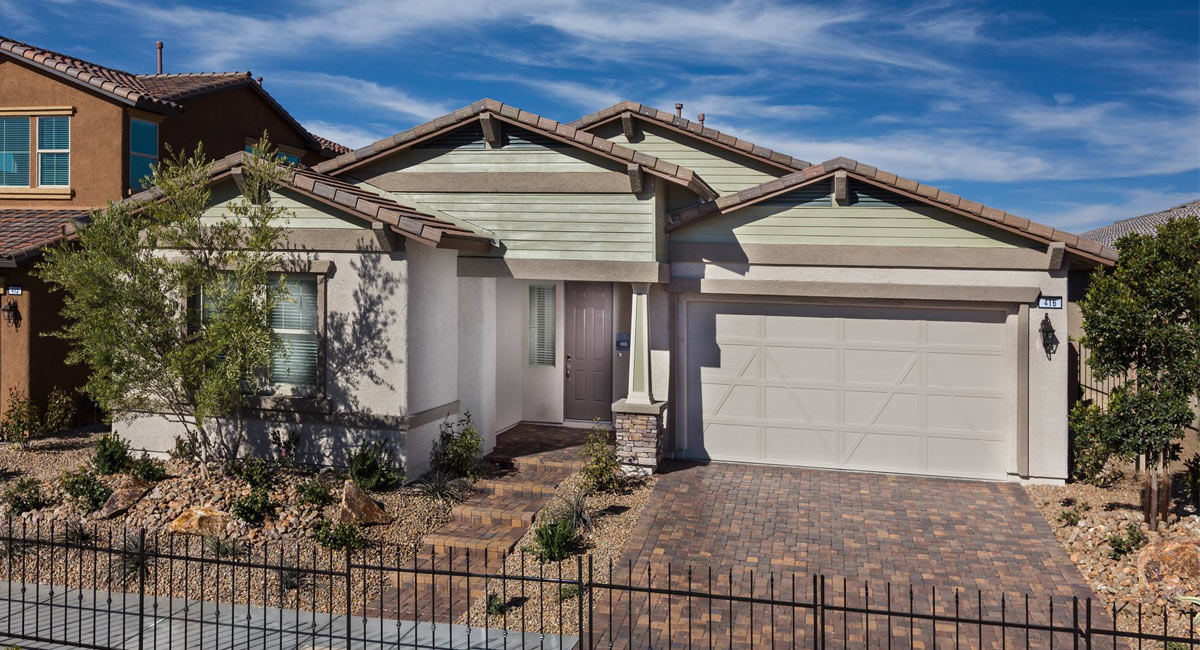 Xeriscaping is a technique that focuses on creating drought-resistant landscapes, and this method of outdoor plot design proves itself useful in regions with hot, dry climates, such as California, Nevada, and Texas, because its benefits include the conservation of water and elimination of fertilization, pesticides, and mowing. Some of the factors that play into a successful xeriscape are the soil quality, mulch blend, strategic irrigation, and plant selection.
Additional Sources:
Modern Xeriscaping Ideas for Your Outdoor Space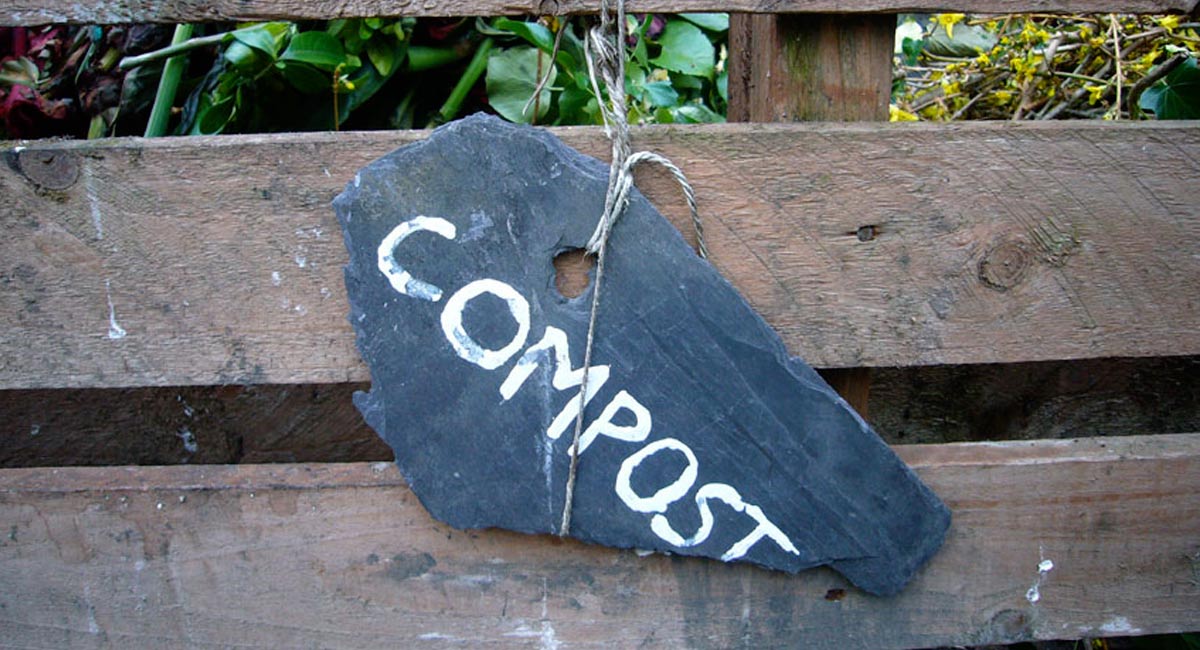 Composting is an eco-friendly, homebased method of recycling biodegradable waste such as dead foliage, paper products, and kitchen scraps into nutrient-rich fertilizer to spread over soil beds. This practice of producing homemade humus diminishes waste contribution to landfills, and thus reduces your carbon footprint; in addition, the use of compost helps improve the health of the soil, fending off plant disease and retaining moisture.
Additional Sources:
Tips and Tricks for Composting
How to Compost and the Different Types of Compost Bins
Watering your lawn and plants with a hose and/or sprinkler system is a costly add-on to your monthly utility bill; rainwater is free and easily collectible with the installation of a rain barrel at the base of your downspout. By gathering rainwater, you exercise a proactive measure in preparation for the next dry spell, reduce runoff, and prevent erosion. Moreover, rainwater is perhaps the cleanest water you can expose your lawn and garden to because it is free of the fluoride, salt compounds, and other chemical traces commonly found in filtered home water which damage rootstocks.
Additional Source:
Top 10 Benefits of Rain Barrels