"Home is where your pets are," many pet parents would say!
Welcoming a pet into your family and home will bring you joy, love and inevitably a bit of a mess. The mess is inevitable, it comes with the territory, but that doesn't mean your home's cleanliness is doomed.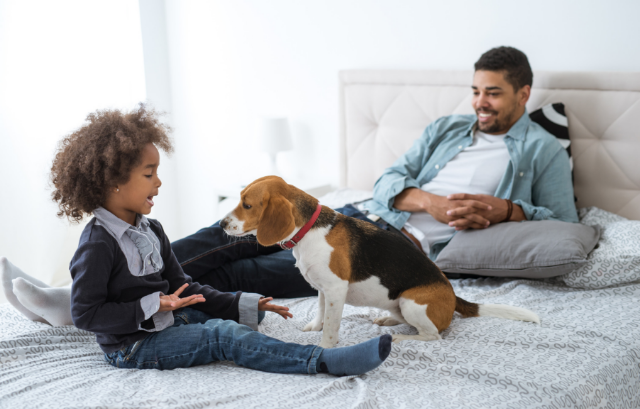 Here are our top 10 tips for keeping a happy, clean, pet-friendly home:
Train your fur babies well – When you welcome a new furry friend to the family, it's essential to train them. Whether you're taking a puppy home for the first time or adopting an older dog, ensure they know the rules of the house early. Train your pet so they know where they're allowed, where they're not allowed, and where they can relieve themselves. A well-trained dog will make the job of keeping your home clean and smelling fresh a whole lot easier.
Bathe your pets regularly – Keeping your pets clean will, of course, help to keep your home clean. Dogs should be bathed every three months at the very least but can be bathed up to every other week with a gentle shampoo. Cats should be washed once every two months, but they can go much longer in between baths if they're indoor cats. If you like cuddling with your fur babies on the couch or in bed, it's especially important to groom them regularly or utilize brushes to reduce shedding.
Utilize a high-performance air filtration system – This is especially important if anyone in your family suffers from allergies. Air purifiers help remove pollutants and trap large particles like cat hair, dog hair, and pet dander. An air purifier will ensure your home is clean and smelling fresh.
Invest in quality stain remover – Pets, get sick and have accidents no matter how well trained they are – it's inevitable. For this reason, we recommend keeping a high-quality stain remover handy and tending to accidents as quickly as possible. The longer a mess is left on a carpeted floor or couch, the longer it has to set, stain and stink. Do some research on the right kind of stain removers for the specific materials in your home and utilize a professional carpet cleaner if the damage is already done.
Confine your pet to tiled spaces – If you're going to be away from your home and pet for more than a few hours, we recommend sectioning off a tiled area such as your kitchen so your pet can wander. This way, they aren't confined to a cage, and if they do have an accident, it's easier to clean. If you're going to be away for longer than a few hours, you may also wish to hire a dog-walker to swing by and take your pup out. They get love, attention, and relief, and you come home to a clean house and a happy dog.
Vacuum carpets frequently – Vacuuming consistently and with a pet appropriate device is the key to keeping your home odor and hair-free. We recommend cleaning at least once a week, but if you have a pet that sheds heavily, you may need to vacuum more often. If this kind of frequency sounds daunting, you may opt for an automatic vacuum cleaner. These require little to no work on your end.
Choose Your Dog's Bed Wisely – Opt for a dog bed that's both water-resistant and easy to clean. Big, plush, decorative beds may look better on your kitchen floor, but they're much more challenging to clean and can trap odors.
Keep paws clean – If your dog is an energetic, mud-loving fluff ball, you'll likely have a hard time keeping those paws of theirs clean. No worries! Let your pup run free, just be sure to clean and dry their paws when you get home. Keep a towel and a water container by your door and dip and dry before setting them loose on the fresh, clean carpets.
Utilize blankets on beds and couches – Who doesn't love a good cuddle on the couch with their pets? Rather than refuse the temptation to bring your fur baby on the furniture for fear of a hair-covered couch, lay a towel, blanket or sheet on the sofa, to make cleaning easier. Or, if it's in the budget, you can also invest in a pet-friendly couch made with leather or a leather-like material.
Create barriers to prevent scratching – If your puppy or kitten is a scratcher like many puppies and kittens are, you may be left with scratch marks on your walls, doors and furniture legs. To prevent this kind of damage, be sure to cut your puppy's and cat's nails regularly. You can also create barriers. Securing Plexiglass on doors where your pet tends to scratch will prevent marks and even help you train your pet.

If you follow these 10 simple steps it won't matter if you have one well-behaved cat or a whole zoo living in your home – it will continue to look new, smell fresh and stay squeaky clean. After all, a clean home is a happy home for all family members – the furry and the not so furry.