The world has changed quite a bit over the last year and a half, the real estate market especially. While staying home, many homeowners found that they needed more space. City lockdowns inspired some to seek refuge and fresh air in the suburbs, while many of those forced to work remotely suddenly found themselves with the freedom to live anywhere in the country. At Lennar, with whatever your homebuying needs are, we're here to help! For our first-time home buyers, here are five tips for starting the buying process of your first home:
1. Do Your Research
When it comes to buying your first home, one of the most important things you'll need to do is set a budget. Find out exactly how much money you'll need to cover everything from the down payment to the closing costs. We recommend getting pre-approved early so when the right house comes along you're ready. If you choose to finance through our affiliate, Lennar Mortgage, loan officers can make the process of applying for a mortgage simple and stress-free.
2. Set Expectations
Once you have your budget, you can start shopping. Make a list of what's important to you, for example:
Single-family, 3 bedroom/2 bathroom
30 minutes from work
Move-in ready
Must have a community swimming pool
Once you are clear on your must-haves, neighborhood and budget, you'll be a competitive shopper and can pounce on homes as they become available. It's important to be quick in this fast-paced market and be ready to make an offer. Be sure to utilize Lennar's Find a Home feature and filter based on your preferences. We have several stunning communities right outside Atlanta that fit all of the above criteria, like Haddonstone in Woodstock and White Oaks in Marietta.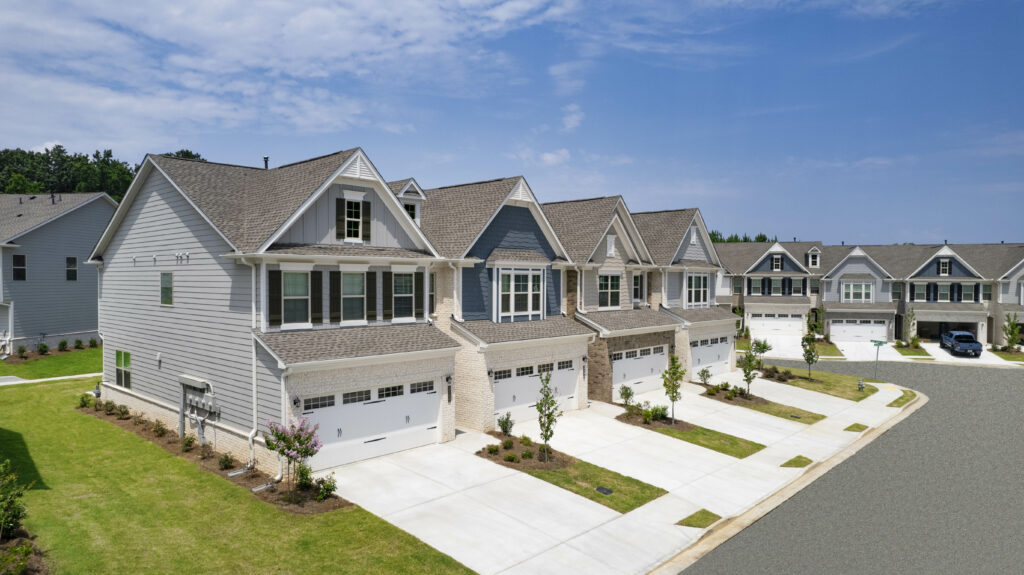 3. Vet the Neighborhood
Don't just search for homes online. Go visit the neighborhoods and communities in person, get out of your car and walk around. It's important how you feel in a neighborhood you're considering buying a home in, and it also allows you the opportunity to chat with neighbors and see how they like where they live. If you can, walk to a local coffee shop or restaurant and chat with a friendly staff member about the neighborhood to get a feel for whether or not it's a place you'd like to live.
4. Look into First-Time Homebuyer Programs
Purchasing a home can be expensive, especially when you're just starting out, so many city and state housing agencies have first-time homebuyer programs that can help lower the costs of homeownership. This may be in the form of closing cost assistance, tax credits, or government loan programs. Check with your Realtor®, lender, city and state to learn about what's available to you.
5. Know Your Credit Report & Debts
When applying for a mortgage loan, lenders weigh your credit score but will also review your entire credit report to learn about your balances, existing loans and payment habits. If your credit history is good and your score is high, you can qualify for a lower interest rate which can benefit you tremendously over time. To ensure you're an appealing candidate, not only do you need a solid history of credit, but you'll also need a low debt-to-income ratio. We recommend that you consult with a mortgage loan officer at Lennar Mortgage to determine any steps you should take to make your application more attractive to lenders.
Navigating the real estate market for a first-time homebuyer is challenging; add a global pandemic and it can be absolutely mind-boggling. At Lennar, we aim to make the process of buying a home as simple as possible. Our home buying service provides you with everything you need to buy your dream home quickly and safely. Contact us today to learn more about brand-new homes in stunning communities now selling in Atlanta.
DISCLOSURE:
Financing is available through seller's affiliate Lennar Mortgage, but use of Lennar Mortgage is not required to purchase a home (See Affiliated Business Arrangement Disclosure). Lennar Mortgage, LLC – NMLS # 1058, Georgia Residential Mortgage Licensee. Branch NMLS# 315634, Branch License # 53893, 1000 Holcomb Woods Parkway, Bldg. 400, Suite 440, Roswell, GA 30076. Lennar makes no guarantee of present or future market conditions. Forecasts, projections and other predictive statements should never be relied upon. You should consult your own accounting, legal and tax advisors to evaluate the risks, consequences and suitability of any real estate transaction. This is not an offer in states where prior registration is required. Void where prohibited by law. Copyright © 2021 Lennar Corporation and Lennar Mortgage, LLC. All rights reserved. Lennar, the Lennar logo, Lennar Mortgage and the Lennar Mortgage logo are U.S. registered service marks or service marks of Lennar Corporation and/or its subsidiaries. Date 10/21