The holidays are here, and thinking about hosting family and friends can bring a mix of joy and stress. For all of the fun and festivity, plenty of challenges abound at this time of year. But don't worry – this year will be the holiday entertaining season that you enjoy as much as your guests! Just follow our tips for stress-free holiday hosting:
Create a List
One of the best ways to create a stress-free gathering is to live by a master list. Organize the gifts, food and decor you'll need to host your get together. Also, asking your guests to help with a party-related task makes them feel more involved and gets some stress off your back. Make your list as simple or elaborate as you need to help you stay as organized as possible.
Discuss Your COVID Safety Preferences
Various family members and loved ones may each have a different approach to COVID safety protocols, such as masking or preferring to stay outdoors, or socially distant during celebrations. It's best to discuss these protocols in advance with your guests to ensure you are all on the same page so you can make necessary accommodations ahead of time.
Open Your House
Allowing your guests to drop by anytime reduces the stress on both you and them. This method also gives people the freedom and comfort of coming and going as they please. Your guests will appreciate the flexibility, and it may end up that staggering people's visits allows you to spend more time with each of your guests.
Stock Up
You'll never run out of snacks if you shop with an aim to entertain. Stock your pantry with a selection of cookies and crackers that won't easily spoil. As far as beverages go, it's always smart to stock up on sodas, mixers, and the adult beverages of your choice. You might always want to have coffee (regular and decaf), cocoa, cider and a basket of teas handy for a cozy end to the evening.
Cook Ahead
Do as much cooking ahead of time as possible. Get dishes ready that you know will freeze and reheat without issues on the day of. You can also reduce stress by asking your guests to each bring a dish to share in a buffet-style setting. If you're going to do an open house, it can work best when there are lots of smaller dishes brought out throughout the day or evening as opposed to one large sit-down meal. That way your buffet is always fresh.
Keep It Tidy
Before the rush of the holidays even starts, do one big deep cleaning at the beginning of the season. From then on, all you have to worry about is keeping your space tidy without all the stress of making a big cleaning scene. When it's time to host, all you'll have to do to prepare is lightly dust and vacuum. Keep in mind that the best holiday host isn't necessarily the one who lives in the world's cleanest house. If you have one messy room, it's okay to just close the door and turn off the lights. No one will be the wiser!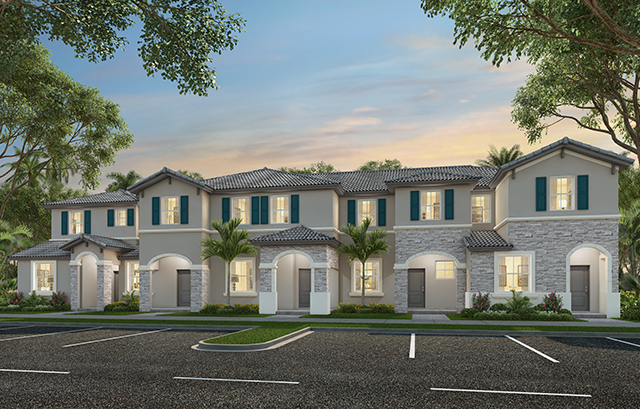 Are you dreaming of being the ultimate holiday host but just don't have enough space or the right layout? New homes from Lennar offer open floor plans, plenty of room and modern conveniences, so you can entertain in style. Right now, three of our Miami-area communities are offering great buying opportunities:
The Riviera is a master planned community of new single-family homes and townhomes with and without garage from $327,990. Located in Homestead, it offers stunning lake views and a relaxed environment.
Corsica, located in Miami, offers family-friendly amenities and new single-family homes and townhomes with and without garage starting at $331,990, with plenty of nearby boating and water sports.
Cordova at the Landings is a community of new townhomes in Miami starting at $361,990, with easy access to shops, restaurants and attractions.
And remember: As you take part in your celebrations and holiday activities, make sure to take a deep breath and savor the moment. And from everyone at Lennar, we wish you and your family a very Happy Holidays and a Happy New Year!