Buying a new home is always an exciting experience, whether it is your first or forever home. You might be looking at a resale property because it seems more affordable, but buying a new Lennar home can afford you greater benefits than a resale and still be yours at a great price. How is this all possible? Why buy new? Read on to discover why buying new is better for you!
A new home means everything is new!
When you buy someone else's home, you are buying someone else's vision, taste, and problems. Buying a resale, you will often run the risk of running into issues sooner than you may think – plumbing, electrical, and even foundational issues. With all the features of a new home, you can spend more time with family and friends instead of fixing the old leaky kitchen sink.
A new Lennar home means Everything's Included®
Many older homes can't provide the features, designs, and finishes that a new home can. Thousands of dollars in upgrades at no additional cost to you are included in your new Lennar home like smart home technology, energy-conscious features, and modern designs and finishes. Because Everything's Included® at Lennar, we offer in-house finance and insurance services to make the buying process as simple as can be with Lennar Mortgage, Lennar Title, and Lennar Insurance.
New is often more affordable
Renovating and remodeling older homes can be costly and inconvenient. Some buyers are considering a fixer-upper or an older home because it seems like a fun project or more affordable up front, but this avenue of buying may not be the best idea unless you have strong enough finances to support a costly project. Plus, the money you may spend on renovating that fixer-upper could go towards your down payment and mortgage on a new home.
New homes are built at or above today's strict building codes
That means less time worrying about things breaking and more time to relax to enjoy your new space. Plus – new Lennar homes come with select structural and appliance warranties that many used homes can't offer. A new home is less maintenance, frustration, and upkeep.
Lennar homes are built with energy-conscious features that save you energy and money
Many used homes have been built with older materials that could soon need replacing and cost you hundreds each month in energy costs. Lennar's Everything's Included® homes include energy-efficient features that can enhance the efficiency of your home and reduce your carbon footprint.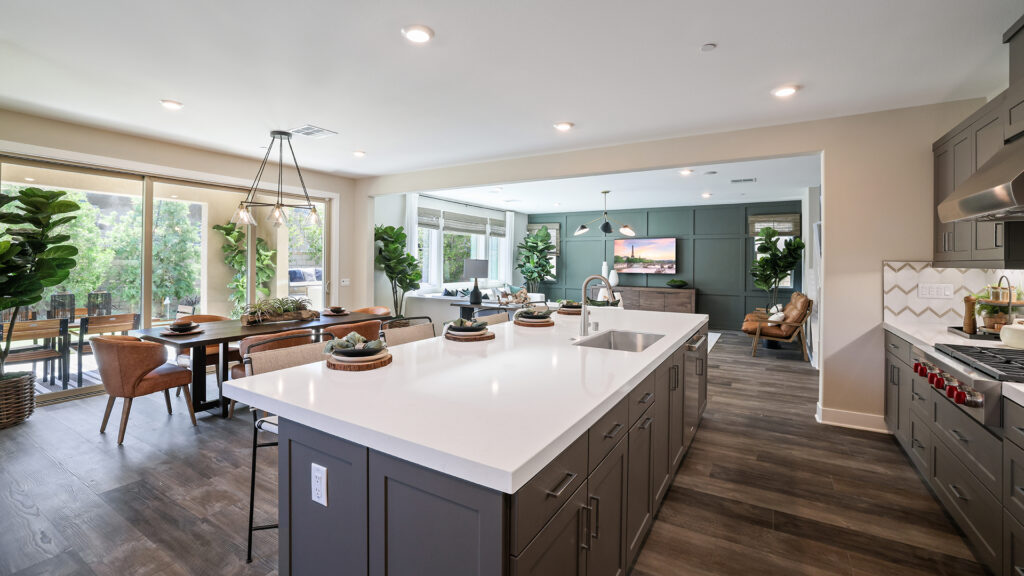 New Lennar homes are ready to tour whenever you like
Rather than waiting for the resident to leave to tour their home, Lennar has models and move-in ready homes that are open to view. You can schedule a Self-Guided Tour or visit a Lennar community at a time that works for you! And – you decide when you want to move in instead of waiting for others to move out.
A new home is yours from the start
A used home will always have someone else's touch, design, and taste throughout. With a Lennar home, it is yours from the start. Once you move in, you can design and decorate however you want. Mid-century modern, rustic farmhouse, or industrial? The choice is yours. Remember, don't settle for someone else's taste.
A new home allows you to buy on your timeline
Whether you are ready to move in quickly or have several months to finish a lease, Lennar has homes available at different phases of construction. This means less stress and no pressure because our team can schedule your closing day to align with an expiring lease and allow adequate time to move out at a comfortable pace.
Our team is here to help every step of the way
Our ISCs, NHCs, and Construction Managers are here to answer your questions and help you find your dream home. And remember, Lennar also provides finance, insurance, and title services through Lennar Title, Lennar Mortgage, and Lennar Insurance. So, Lennar is there every step of the way!
As one of the Nation's leading homebuilders, Lennar delivers homes that are optimized for your lifestyle and designed for your daily routine. New is simply better for you! Visit a Lennar new home community to tour our models and speak with a New Home Consultant about finding a home that's right for you. We look forward to meeting you and helping you find your dream home!