Congratulations! You just bought your new home and finally decorated and furnished the interior, but now you've walked outside and noticed that your front porch is… bland. Don't worry! By following a few simple steps, your front porch will soon have curb appeal that will rival that of your neighbors.
Step 1: Clean your front porch
An upside to starting your front porch transformation with a bland front porch, is there's not a lot standing in your way when it comes to getting it clean. You'll need to follow these first 3 cleaning steps regularly:
Sweep your porch
Wipe down windows
Clean your door and screen door (if you have one)
Rent a pressure washer to clean concrete and siding to brighten its color
Clean your columns or posts (pressure washer may work here but be careful when pressure washing anything made of wood)
Step 2: Furnish your porch
You might want to ask yourself, "What will I be doing on my front porch"? Whether your answer is hosting family and friends or simply spending time outdoors, you will need to decide what type of furniture you'd like and how much you need. Also, consider how much space is available before going and buying your desired furniture.
Step 3: Add Plants for color
Plants will bring your porch to life. Pick out your favorite styles: perennials, annuals, even biennials. You can hang them, put them in flowerpots, put them on tables or even hang a wreath on your door. Just make sure you keep a color scheme in mind for both your furniture and plants to add more curb appeal.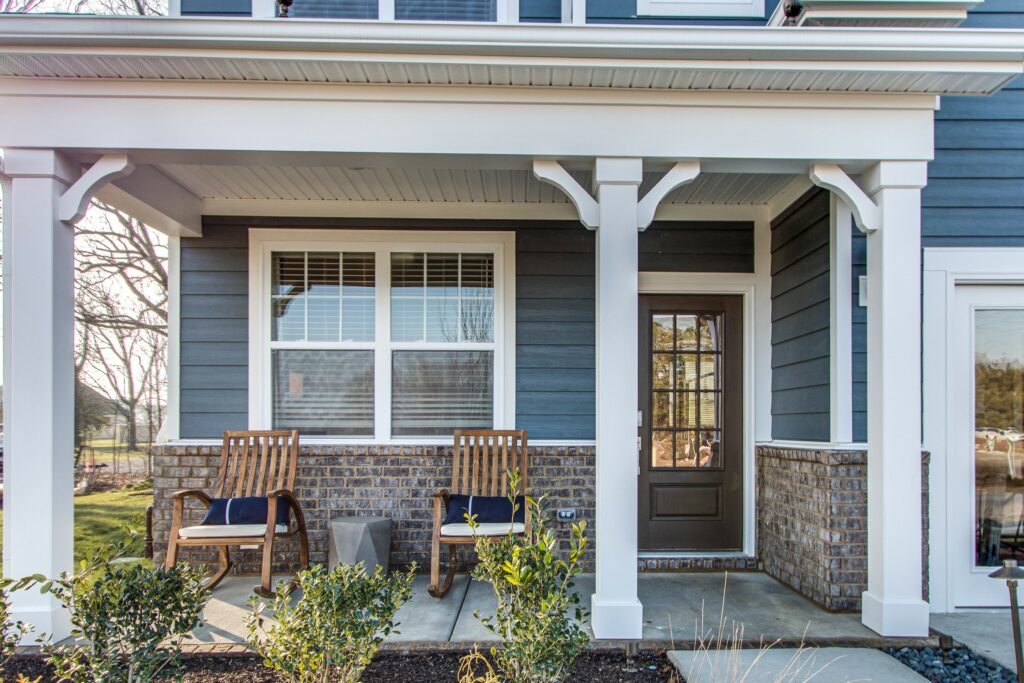 Final Step: Symmetry
Draw an imaginary line down the center of your front porch living space (don't include your door unless it's in the center of your porch). Whatever you add to one side of this line, you should add to the other. If you add a rocking chair to the left, add one to the right. If you hang a plant to the right, hang a plant to the left and so on. Each side does not have to match 100% but following this rule for the most part will draw your neighbor's eyes. People are naturally drawn to symmetry.
You are Ready!
That's all there is to it! If you keep your porch clean, apply a color scheme to furniture and plants, and try to keep your porch as symmetrical as possible, you'll be kicking back on your new and improved front porch confident in its curb appeal. Just be ready to soak up all your neighbors' compliments.