Do you get excited when the summer heat fades into autumn chill? Is sweater weather your favorite time of year? Does pumpkin spice speak to you on an emotional level? If this sounds like you, then watching the leaves change color in the fall is probably one of your favorite parts of the season.
For all the fall aficionados out there, we have some great news for you! Lennar has several communities available right now that will give you the opportunity to immerse yourself in beautiful fall foliage all season long.
These luxury villa, single-family and townhome communities in western Maryland and south-central Pennsylvania will give you the autumn experience you've been dreaming of!
Brunswick Crossing
Nestled between the low, rolling Appalachian mountains and the Potomac River is the peaceful community of Brunswick Crossing. This location is ideal for fall-themed outdoor activities, such as the Brunswick Family Campgrounds, Rivers Edge Trails and several parks all under three miles away. Historic Harpers Ferry is also right around the corner if the Sleepy Hollow aesthetic is your thing! Brunswick Crossing offers townhomes from the $400s and single-family homes from the $500s.
Woodbourne Manor
This community offers small town life at its best! Woodbourne Manor is located in Jefferson, MD about halfway between the seasonal destinations in Harpers Ferry and Frederick. This means that homeowners will have easy access to local autumn activities – like visiting the Catocin Creek Park & Nature Center and Jumbo's Pumpkin Patch – as well as the amazing fall festivals hosted in Frederick every year! Woodbourne Manor offers single-family homes you're sure to love. Contact us to learn more information.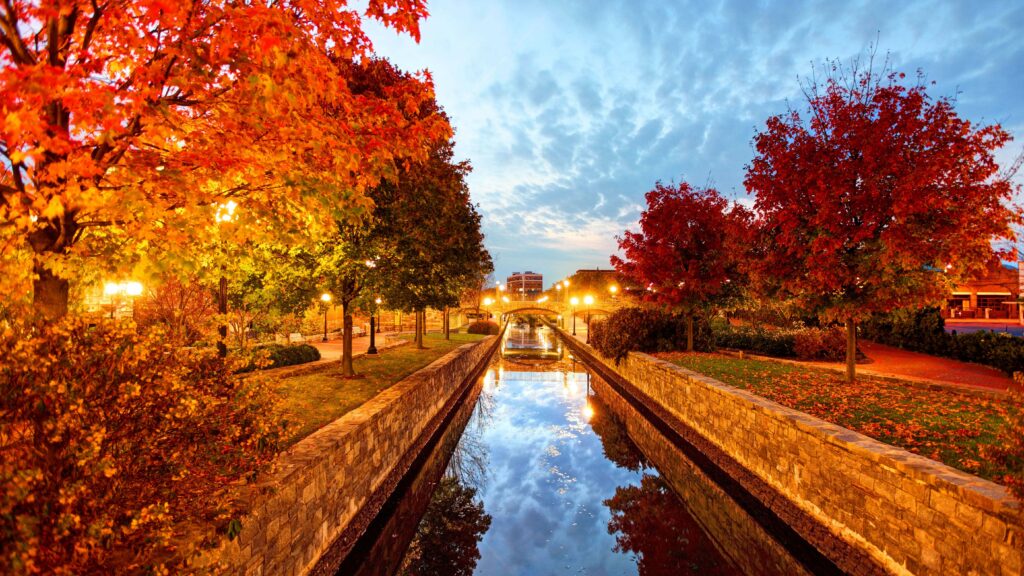 Sycamore Ridge
Sycamore Ridge rests on the bucolic border where the Frederick suburbs end and the forests and farms begin. This location is perfect if you want to be close to the city's fall festivals, yet still close enough to nature to enjoy the change of seasons. There are fantastic outdoor areas to explore at nearby Gambrill State Park, Frederick Municipal Forest, Fountain Rock Nature Center and more. Sycamore Ridge offers townhomes from the upper $300s and single-family homes from the upper $500s.
Amblebrook at Gettysburg
The resort-style, active adult community of Amblebrook at Gettysburg is a wonderful place to experience the fall. Not only does the luxurious campus offer a farmer's market, fun seasonal events and picturesque walking trails, but the surrounding area is full of tranquil forests and farmland. The Battlefield Car Tour is another great way to view the fall foliage and learn a bit of history along the way. Amblebrook at Gettysburg offers villa homes from the $300s.
Hickory Ridge Mews
The northernmost of these communities, Hickory Ridge Mews is located alongside the Little Connewago Creek in York, PA. This beautiful area is brimming with autumn activities, from apple picking and pumpkin beer tastings to train rides and spooky Halloween events. You can also trek out to Gifford Pinchot State Park and Campgrounds to enjoy an afternoon hiking, boating or fishing along the lake. Hickory Ridge Mews offers single-family homes from the $300s.
Are you ready to find your autumn paradise? You can learn more about these communities and others by contacting our New Home Consultants. Just call 888-214-2073 or email LennarMaryland@Lennar.com to ask for more information. Our team of talented professionals will help you find the perfect home for you in a location you'll love!