The start of a new year typically inspires change for many. It might be a different hairstyle, a wardrobe update, a new home or job, or an interior design update. If you want to give your current home an update or are looking to go with an entirely new look for your new home, here are a few of the hottest design trends to inspire you:
1.Authentic Non-Trends: If you're sick of seeing the same light shades, all-white kitchens, basic sectionals, and Picasso-esque line drawn art – you're not alone. In the new decade, designers are going rogue. Non-trendy is the way in 2020. If you're redesigning your home or interior space or decorating a new home – there's no better time to get creative and decorate according to your unique taste. Source furniture and art from your local flea markets, yard sales, and consignment shops. Upcycle where possible. Get the family together and create your own artwork. What's better than home decor pieces that tell stories and mean something to you?
2. Bold Painted Doors: We love how easy and affordable this trend is going to be for those on a budget and those who are trying to make updates without going overboard. If you're interested in giving this trend a try here are a few bold colors perfect for painting your interior doors with:
Benjamin Moore's Blue Danub
Behr's Rumba Orange
Behr's Light Drizzle
Pantone's Classic Blue (Named 2020 Pantone Color of the Year)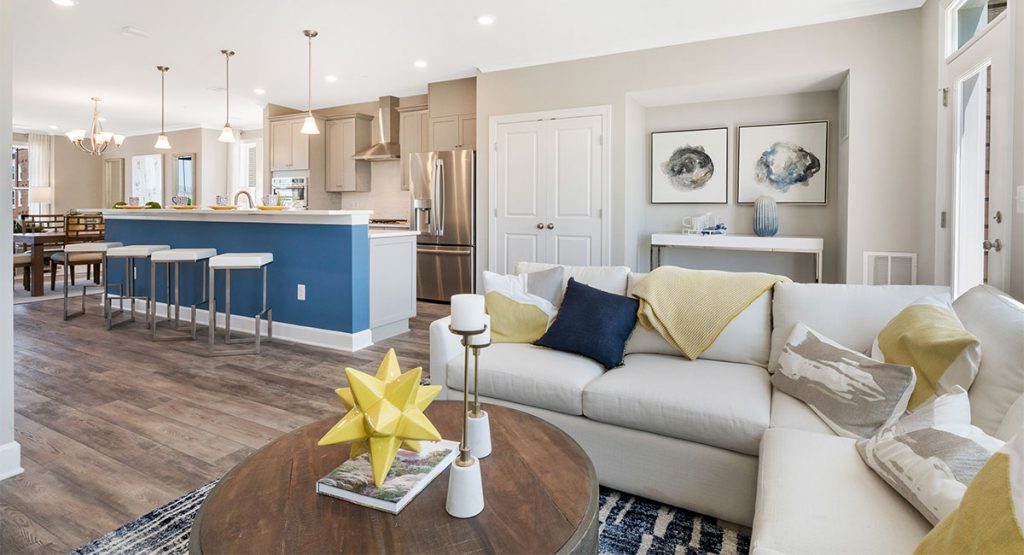 3. Upcycled & Sustainable Textiles & Materials: In this new decade, we're all thinking about how we can be more eco-conscious, reduce our carbon footprint, waste less, and be kinder to our planet. As a homeowner furnishing or redecorating your home, you have options! Bamboo wood floors, rattan furniture, sustainable fibers, plant-dyed textiles, and natural fiber rugs are all in. Consider purchasing products made to last and buying high-quality items will help reduce the impact on the earth in the long run. Green is the new black when it comes to interior design in 2020.
4. Layering Old with New: It's not entirely out with the old and in with the new in 2020 – it's more like in with the old AND in with the new. Combining vintage treasures, and old-world charm with modern design and materials is a popular style we're expecting to see a lot of in the next few years. If you didn't inherit antique furniture from relatives, or if you're not into thrifting for vintage finds, there are plenty of boutiques that will do the curating for you such as Rebecca & Genevieve which source vintage rugs, Josh Young Design House which produces unique colonial portrait art and Shoppe Amber Interior Design which mixes vintage and modern.
5. Patterns, Patterns, Patterns: Bold patterns will continue to be seen in 2020. Throw pillows with an assortment of eclectic patterns and designs will continue to be seen. We are also starting to see patterned sofas, bold patterned wallpaper, and even single-print walls and sofas – a design queue taken from the iconic Lee Radziwill. Again, the design, color, and pattern are all about you and your style and taste. Whether you love dainty pastel florals, dark, moody landscapes, or colorful stripes, you can't go wrong as long as YOU love it!
Whatever your style, you can relax knowing that this year – the biggest trend is no trend! Have fun, design your home to match your unique taste, and don't be afraid to break the rules!