The Lindera Preserve Community in Cane Bay Plantation witnessed a sweet Valentine's Day treat with a special groundbreaking event for a new mortgage-free home for a wounded war veteran and his family.
"This is a dream come true," said Matthew Weise, former U.S. Army sergeant first class. "It's hard to believe a year ago I was just sitting in a swamp in Fayetteville."
Led by a police escort to their new Witch Hazel Drive home, the Weise family was greeted along the street by cheering community members, waving American flags. With some Weise relatives present, most in attendance were local home builders and contractors connected to the project. They were strangers whose presence proved to Weise, wife Saray and their three children—Shadia, 16, Kaiser, 12, and Suri, 10—that they were surrounded by love.
When later addressing the crowd, Weise choked back tears as he reflected on his hardships.
"There was a point in my life where I didn't think anybody cared," Weise said. "Thank you for caring for my family's life."
The domestic deal was made possible through a partnership between Lennar Homes and Operation FINALLY HOME, a nonprofit organization that awards mortgage-free homes to American military heroes and widows of fallen service members.
"This is a welcoming place, and we're just so honored to be a part of it, to be able…to help provide…this home of hope for you all," said Rusty Carroll, executive director of Operation FINALLY HOME.
The organization partners with corporate sponsors, builder associations, builders, remodelers, developers, individual contributors, and volunteers. The Weise family is the 151st home recipient since the organization was established in 2005.
Pointing to the concrete foundation behind him, Jason Byham, Lennar's division president, urged the Weises to soak in the moment's meaning.
"That's going to be a place where you guys are going to make some really awesome memories over the next years," he said. "Take pictures; let that sear into your brain. That is a really, really strong foundation…both figuratively and physically. …Enjoy what this home is going to mean and the stability that it's going to bring to your family; and every time you walk through that front door, I really hope that no matter how bad the day has been…don't let any of it overwhelm you."
For the last 15 years, Weise has been stationed at Ft. Bragg Army base in North Carolina and said he's ready to move closer to his extended family—many of them long-time residents of Johns Island and James Island. His mother is also a Charleston native, and though Weise grew up in Georgia he said he was born in Florence, South Carolina.
"Their roots are in this area; we wanted to get them back to this area," said Rusty Carroll, executive director of Operation FINALLY HOME. "God has a plan, in His time, that things come together, and this is (the Weises') time."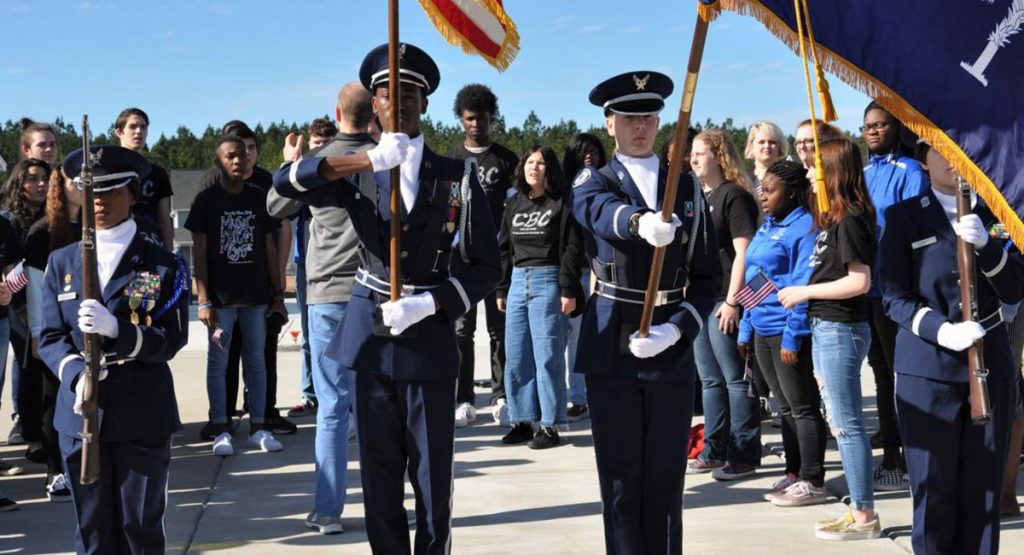 It was on New Year's Eve, during a live episode of FOX and Friends, when the Weises first learned about their future, four-bedroom Summerville residence. The news proved shocking since the family thought their Big Apple visit was to meet with a builder—and while there, also appear on the national news network to discuss Weise's war stories.
Though Weise said he'd remembered applying to the home program four years earlier, he never imagined he'd be selected.
"They tricked me to go up there," he said with a laugh.
The decorated war hero is no stranger to front-line fighting, sustaining injuries during three of his six deployments to Iraq and Afghanistan. According to Carroll, in one incident mortars struck a building where Weise was located, and in a second incident, his vehicle drove over an IED. Weise also stepped on an explosive device during one Middle Eastern mission.
"So half of the time he was (overseas), he was obviously in dangerous situations," Carroll said.
While a "litany of…challenges" have "caused him to not necessarily be the person he was when he went in" to the Army," the seasoned military man has shown unprecedented perseverance, Carroll said of Weise.
"I know personally he's striving to be a better person when he's gotten out," Carroll said.
Weise's close calls with death left him with a traumatic brain injury and post-traumatic stress disorder; but his survival left his family believing in a Higher Power's protection.
"God was looking out for him," said father Steve Weise, a U.S. Navy submarine vet. "Somehow, all that shrapnel went somewhere else."
Looking for adventure, Weise said he signed up for Army right out of high school. It was just months before 9/11 happened. He explained the decision was better for him than the alternative—college.
"I didn't really like sitting in a classroom," Weise said.
And for his courageous feats, Weise was awarded two Purple Hearts and two Bronze Stars. But his most priceless achievements aren't represented by medals.
"I think the three biggest awards he would want to be remembered for is that of son, husband and father," Carroll said.
Weise's patriotic sacrifice prompted many in Thursday's crowd to personally thank him for his service, shake his hand and bond over their own past military experiences.
Though the Weise family has endured a rocky road the last several years, Byham encouraged them to look with excitement on their new, future Lowcountry chapter.
"I know that life hasn't really been easy for you guys to this point," he said. "But somebody once told me that 'our lives are the sum of important moments'; and if that's the case, I really hope that this moment is sealed in your memory forever, because there are a lot of people that love and support you guys, that don't even know you; and I think that's what makes America great."
Cane Bay High, where the family's oldest child will attend in the fall, also participated in the event. The choir performed the National Anthem, and the Air Force ROTC presented the colors.