In our last homebuying guide, we explored the myriad of questions first-time homebuyers have before starting their new home search, such as affordability, purchasing power, pre-qualification and the three main factors that influence a home loan. In this new guide, we'll be exploring the frequently asked questions buyers have once they actually start the homebuying process for their new Lennar home. From how to tour our stunning Lennar model homes to HOA fees, this homebuying guide will provide you with everything you need to know.
How can I tour Lennar homes?
Once you've done your research, narrowed down your search to select communities and plans and are ready to start visualizing your new life in a beautiful home, Lennar makes it easy to tour our model homes. And in today's climate, Lennar ensures your homebuying experience isn't just seamless, but also as safe as possible. Lennar currently offers three ways to tour model homes:
Take a virtual tour from the comfort of your own couch
Schedule an appointment for a guided tour with a knowledgeable New Home Consultant who can answer any questions you may have
Schedule a Self-Guided Tour, where you can tour the models completely on your own and at a time that works for you†
What are closing costs?
Because of closing cost fees, the price tag on that home you're looking at is not what you will end up paying in total. Think of closing costs as an umbrella term that covers a variety of fees when a person takes out a mortgage. This includes fees for origination, appraisal, home inspection, title, title insurance, homeowner's insurance and more, as well as several other charges, depending upon location, the property you buy and the loan type you choose.1 Closing costs can range anywhere between 2 to 4 percent of the home's value. Thus, it's important to keep closing costs in mind when saving up for a down payment on your new home. At Lennar, we often have a closing cost incentive, when financing through our affiliate lender Eagle Home Mortgage, LLC, NMLS # 1058 (See Affiliated Business Arrangement Disclosure), so don't forget to ask!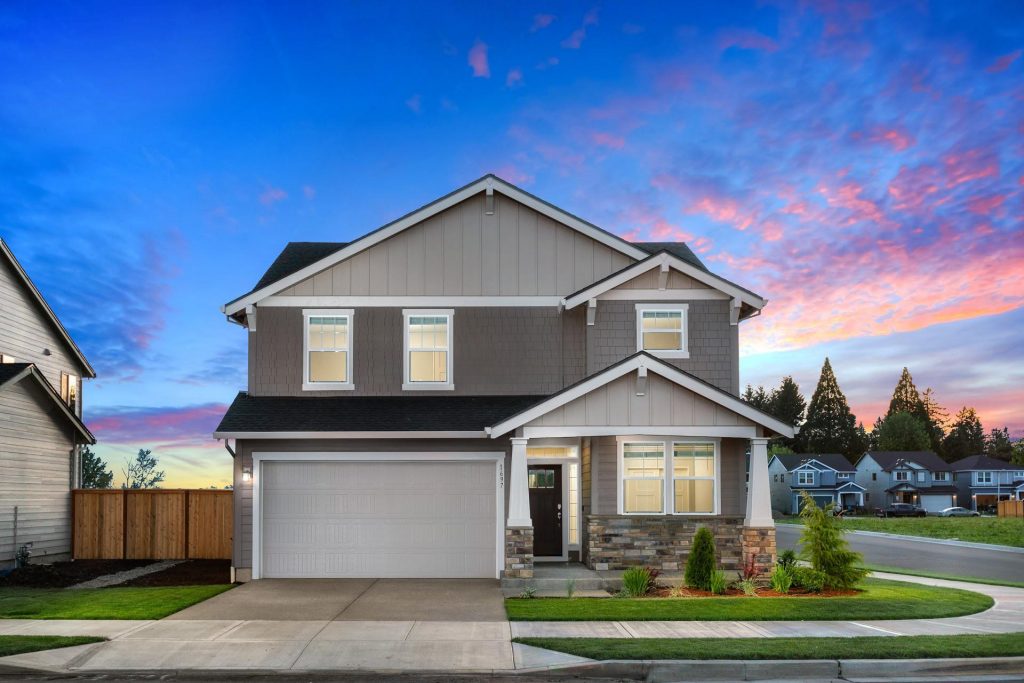 What are HOA fees?
A homeowner's association (HOA) fee is an amount of money that is paid monthly by residents. These fees help maintain the many factors that relate to the overall community that you share with your neighbors. This can include neighborhood maintenance such as lawn mowing, snow removal or the upkeep of the neighborhood clubhouse, pool and any other amenities offered, as well as for social events, ensuring everyone adheres to the community rules and improving the community so your home's value doesn't depreciate. HOA fees vary from community to community and generally, the more amenities and services they offer, the higher the fees. Be sure to check out the HOA fees in the community you're interested in and factor that into your budget!
What is homeowner's insurance?
For most, buying a home is one of the biggest financial and personal investments they will make in their lifetime, so it's absolutely important to insure your home. And if you're taking out a home loan, most lenders will require you to purchase home insurance before closing. Homeowner's insurance protects your home, other structures (such as your garage, garden, deck, etc.) and personal belongings (such as furniture, electronics and clothing) in the event of a disaster, like a fire or if a tree falls on your home. Homeowner's insurance can help you repair, rebuild or replace anything that is damaged. Homeowner's insurance may also include liability protection, so if an accident happens like a visitor sustains an injury or your son damages your neighbor's property during a game of basketball, you may be covered. To avoid large financial hits and for peace of mind, you will definitely want to get homeowner's insurance!
How do all these extra fees impact my purchasing power?
It's easy to know your purchasing power – or how much you can afford – with Lennar's home affordability calculator. But as previously mentioned, the price tag of the home you're looking at isn't the total amount, so your purchasing power could be less once you consider closing cost fees, HOA fees and homeowner's insurance. If you have only enough saved for a down payment and not enough for these additional fees, your buying power is affected and you will need to revise your budget.
What are the benefits of new construction?
There are many benefits to buying brand new: you get a fresh never been lived in home, advanced technology and design, plus the comfort of knowing everything is completely new and under warranty. But new construction also means you can move at your own schedule! So, start your new home search today with Lennar at www.LennarPortland.com and make your move!
Sources:
DISCLOSURE:
Information in this blog article is for general guidance only, and it does not constitute the provision of legal, financial or professional consulting advice. †Real estate agents/brokers representing the buyer, if any, must accompany a prospective buyer during the buyer's initial self-guided tour in order to be eligible for any offered commission from Lennar. Lennar Limited Warranty ("Limited Warranty") consists of: (a) a limited 1-year warranty on workmanship, (b) a limited 2-year warranty on systems, and (c) a limited 10-year warranty on structural elements. Exclusions apply. Proper maintenance of your Home is vital; failure to perform regular required maintenance can limit your Limited Warranty rights. Claims must be submitted as soon as possible and in no event later than the expiration date of the applicable limited warranty. Lennar has no obligation with respect to claims submitted more than 30 days after the expiration of the applicable limited warranty. Homeowner must provide Lennar with prompt and complete access to inspect and investigate claims and make repairs, and cooperate fully in the investigation of any claim. Failure to provide access to the home shall void the Limited Warranty with respect to that claim. Lennar reserves the sole right to determine the repairs and/or replacements necessary to meet the standards of the Limited Warranty, and reserves the option to repair, replace or pay homeowner the reasonable cost of repair/replacement for any warranted and covered claim. Disputes are subject to mediation and binding arbitration. State law may affect the terms of the Limited Warranty. See a New Home Consultant for details or to obtain a copy of the Limited Warranty. This is not an offer in states where prior registration is required. Void where prohibited by law. Copyright © 2020 Lennar Corporation and Eagle Home Mortgage, LLC. All rights reserved. Lennar, the Lennar logo, Eagle Home Mortgage, and the Eagle logo are U.S. registered service marks or service marks of Lennar Corporation and/or its subsidiaries. Seller's Broker: Lennar Sales Corp., Oregon license #201206464. Construction License(s): Lennar Sales Corp. Oregon license #201206464. CalAtlantic Homes of Washington, Inc., CALATHW836LR. Lennar Northwest, Inc., CCB #195307, LENNAN1893QG. Heritage Homes NW LLC, CCB #188886. Date 07/20