The holidays are closing in and you have your game plan together for the food, visitors, and…oh no, you forgot the table decorations. Lucky for you, we've got a few simple steps you can take to quickly get your table decorations together for a big feast!
Step 1: Establish your Centerpiece
Your centerpiece will set the tone for all of your other table decorations – so you certainly don't want to settle with something you don't love. You can go buy a centerpiece at most stores around this time of year, but good ones can be pricey. You can certainly pull something together yourself but since you are pressed for time, we recommend utilizing Pinterest and searching for floral or woodsy centerpieces. If you really want to keep it simple, search minimalist centerpieces.
Step 2: Smaller Décor
Sometimes people like adding a little extra décor to the table that compliments the centerpiece. You can easily go outside and find pinecones, wildflowers (if it's not too cold) or even go buy some smaller decorations at the store if you don't have anything available around you. Also be sure to look around your house. You never know how many household items you have that can double as a beautiful fall feast decoration until you look.
Step 3: Tablecloth or No Tablecloth
Tablecloths can really make your table look holiday official. However, some thanksgiving tablecloths can have some wild patterns that can throw off your holiday vibes by making your table look cluttered. If you are eating at a smaller table or if you plan to add some smaller decorations, just make sure there's still room to for food. So, if you go with a tablecloth just dial back on the small décor a bit, make sure it doesn't clash with the centerpiece, and you are good to go.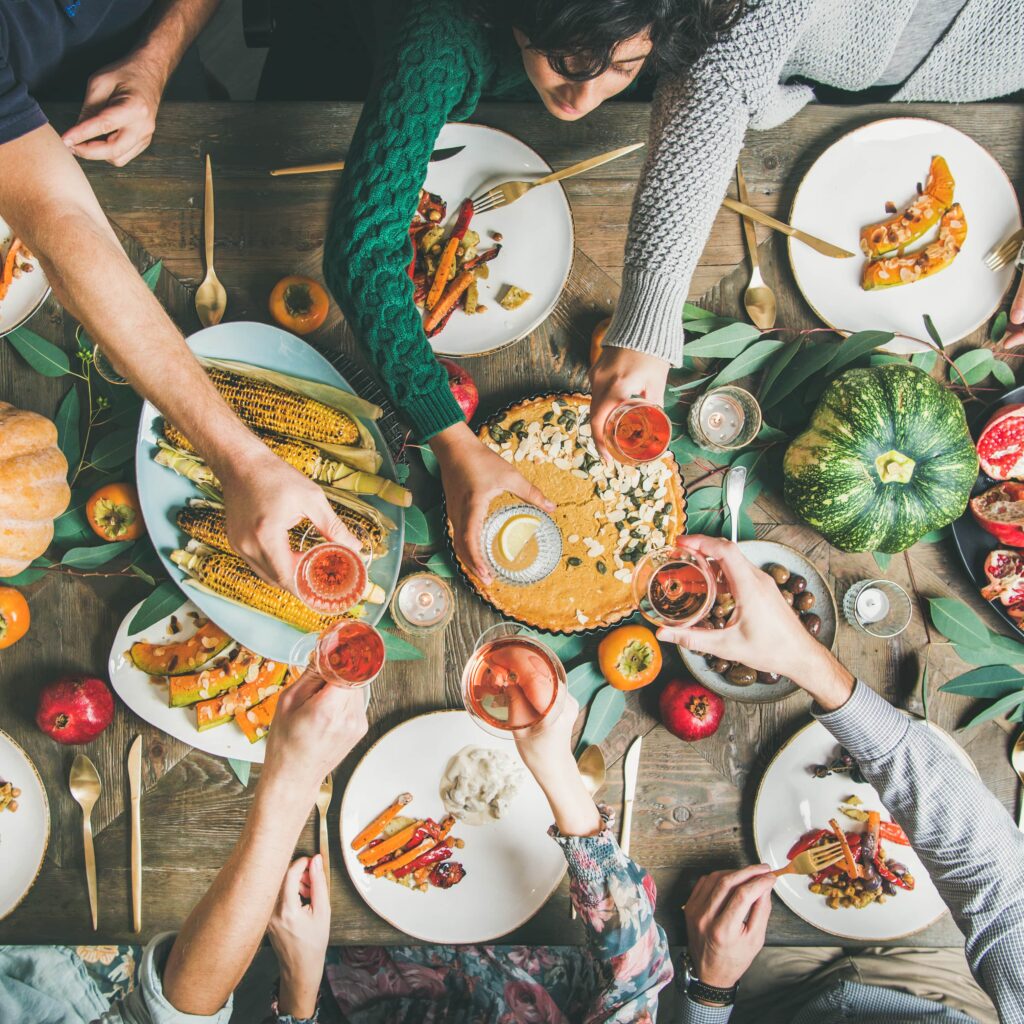 Step 4: Glasses, Plates and Eating Utensils
Consider this the finishing touch to your Thanksgiving table décor. You can choose to be flashy or minimalist with glasses, plates and utensils depending on your style. A lot of families have china that has been passed down from generation to generation, so this is the time to bring those dishes out. If you don't have any china to use, there's no need to impulse buy. You can easily find plates that will fit your décor at your local department store for much cheaper.
Step 5: Preview Table Décor
This seems like an obvious step, but when you are crunched for time this is easy to forget. After you have your décor together simply set your table up to see how it looks. You'll get a good feel of what you need to adjust, remove or add so you can achieve the holiday table you envisioned.
Recap
The important things to remember for your holiday table setting is to make sure you maintain control of the colors, patterns, keep the clutter down and preview your table décor. Search for holiday items you need at dollar stores and low-price department stores before you take the more expensive routes. These steps will ensure you have a beautiful holiday table and help keep your costs low!
If you're wishing you had a dining room better suited for the holidays, we have your answer at Lennar Nashville! We offer a variety of unique single-family homes and spacious townhomes that feature beautiful dining areas for an affordable cost. Visit our website to view our new homes or call us at 615-236-8076 to speak with our Internet Sales Team for more information.