San Antonio, TX, March 8, 2019 – Lennar, Operation FINALLY HOME, and Cushman & Wakefield have joined together to provide U.S. Army First Lieutenant Garrett Spears a mortgage free new Lennar home in Lennar's Johnson Ranch community. The organizations held a special groundbreaking ceremony at Spears' future homesite on March 5th, 2019.
U.S. Army First Lieutenant, Garrett Spears and his family were surprised with the news during a live Fox News segment on New Year's Eve 2017. Garrett was injured while participating in combat field training at Fort Hood in October 2013. Spears was tragically struck by lightning, stopping his heart and resulting in multiple burns across his body. The Traumatic Brain Injury (TBI) caused Spears to lose the use of both legs as well as his short‐term memory. After nearly two years of in‐patient rehabilitation, Spears was discharged in the Fall of 2015 and is now walking on a limited basis. As his recovery continues, his mother and stepfather provide daily care and support.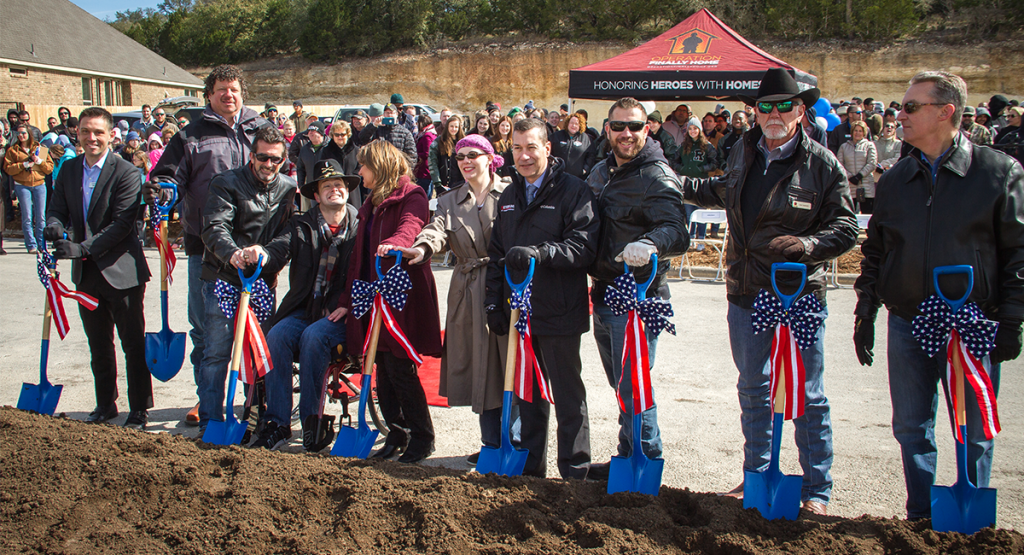 Upon completion, Garett will receive Lennar's Next Gen® home – perfect for their multigenerational family, living under one roof. Lennar's Next Gen® The Home Within a Home®, features an attached suite with a kitchenette, private living space, bath and spacious master bedroom. Modifications will be made to provide convenience, accessibility and comfort for Garett's day to day routines.
Spears and his family were led into their groundbreaking ceremony by local Patriot Guard Riders and the Bulverde Sheriff's Office. They were greeted by over two hundred fifty Lennar San Antonio associates and community members, who cheered and waved American flags as the Spears family arrived at their future homesite. Reagan High School ROTC (Spears is a Reagan alumni) performed the presentation of the colors and Johnson Ranch Elementary choir sang the National Anthem. Bulverde Mayor, Bill Kraweitz welcomed the Spears family to the Bulverde community and Lennar San Antonio Division President, Brian Barron, thanked Garrett for his service and sacrifice.
This is Lennar's fifth project partnering with Operation FINALLY HOME with plans for additional projects in the future. Lennar anticipates the home to be completed this fall.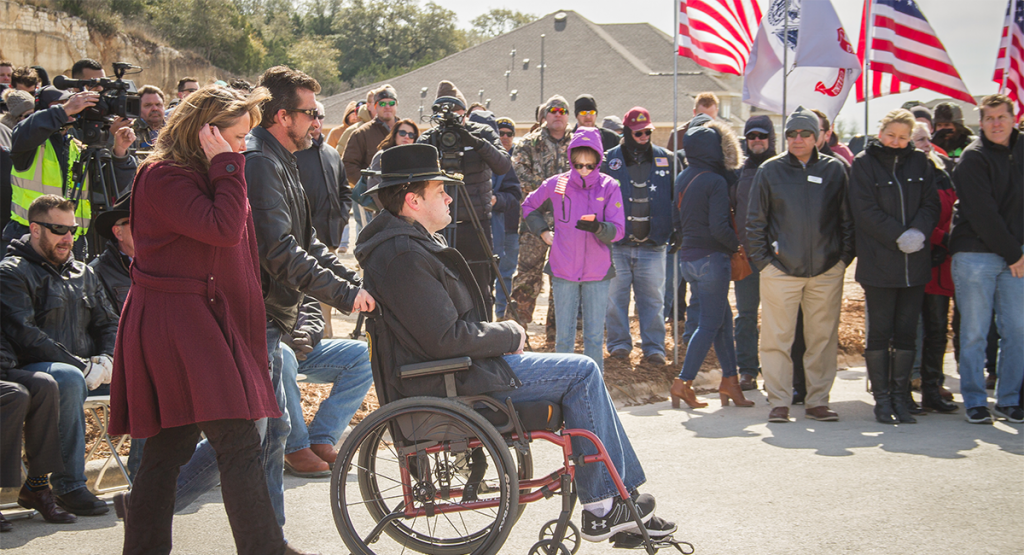 About U.S. Army First Lieutenant Garrett Spears
First Lieutenant Garrett Spears graduated from Texas A&M University in 2012 and was commissioned as Second Lieutenant in the U.S Army. While participating in combat field training at Fort Hood, Spears was struck in the head by lightning resulting in traumatic brain injury and short‐term memory loss.
He was in a coma from October to December of 2013, after which, Spears began his two‐year road to recovery, consisting of in‐patient rehabilitation. Each day Spears' family sees improvements in his progression and independence. His determination has earned him the Army Achievement Medal, National Defense Service Medal, Global War on Terrorism Service Medal and Army Service Ribbon.
About Lennar
Lennar, founded in 1954, is one of the nation's leading builders of quality homes for all generations. Lennar builds affordable, move‐up and active adult homes primarily under the Lennar brand name. Lennar's Financial Services segment provides mortgage financing, title insurance and closing services for both buyers of Lennar's homes and others. Lennar's multifamily segment is a nationwide developer of high‐quality multifamily rental properties. For more information about Lennar, please visit www.lennar.com.
About Cushman & Wakefield
Cushman & Wakefield (NYSE: CWK) is a leading global real estate services firm that delivers exceptional value for real estate occupiers and owners. Cushman & Wakefield is among the largest real estate services firms with approximately 51,000 employees in 400 offices and 70 countries. In 2018, the firm had revenue of $8.2 billion across core services of property, facilities and project management, leasing, capital markets, valuation and other services. To learn more, visit www.cushmanwakefield.com or follow @CushWake on Twitter.
About Operation FINALLY HOME
Based in New Braunfels, Texas, Operation FINALLY HOME was established in 2005 as a nonpartisan/nonprofit 501(c)(3) organization. The mission of Operation FINALLY HOME is to provide homes and home modifications to America's military Heroes and the widows of the fallen who have sacrificed so much to defend our freedoms and values. Operation FINALLY HOME partners with corporate sponsors, builder associations, builders, remodelers, developers, individual contributors, and volunteers to help these Heroes and their families by addressing one of their most pressing needs – a place to call home. For more information about Operation FINALLY HOME, visit OperationFINALLYHOME.org.
Contact: Sarah Arizola, Lennar San Antonio sarah.arizola@lennar.com, 210‐403‐6235