Lennar Charleston partnered with nonprofit organization, Operations Finally HOME, to honor U.S. Sergeant Matthew Weise and his family for his service with a mortgage-free home. Read The Berkeley Ind. article below to get a recap of this unforgettable moment.
For the first time in a week, rays of sun streamed down from the Charleston area's blue sky, sparse with clouds; the wind blew across a giant American flag stationed in the Weise family's front yard; and a crowd of people—many dressed in red, white and blue—waved mini flags as they cheered loudly for the anticipated arrival of the couple and their three children.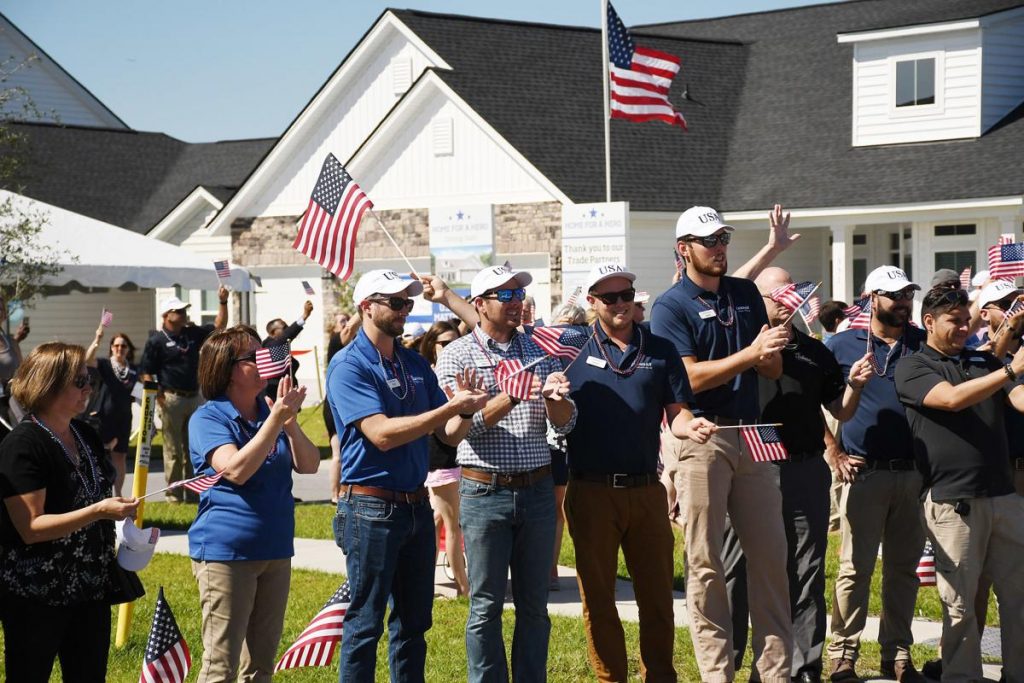 In true patriotic spirit—heightened because of the Flag Day holiday—attendees also donned white ball caps embroidered with the word "USA" and chanted the short phrase—"USA, USA, USA"—as the family exited their vehicle to extend hugs and handshakes to friends and strangers lining the street.
It was a magical morning Friday for the family of five, as a police escort led them through Cane Bay's Lindera Preserve neighborhood, to their final destination: a brand-new, mortgage-free home.
"It's just amazing," said Matthew Weise, a wounded war veteran, as he described the day and his first look at the completed house on Witch Hazel Drive.
Lennar Homes partnered with nonprofit organization Operation Finally HOME, to award the new residence. The nonprofit specializes in providing mortgage-free homes to American military heroes and widows of fallen service members.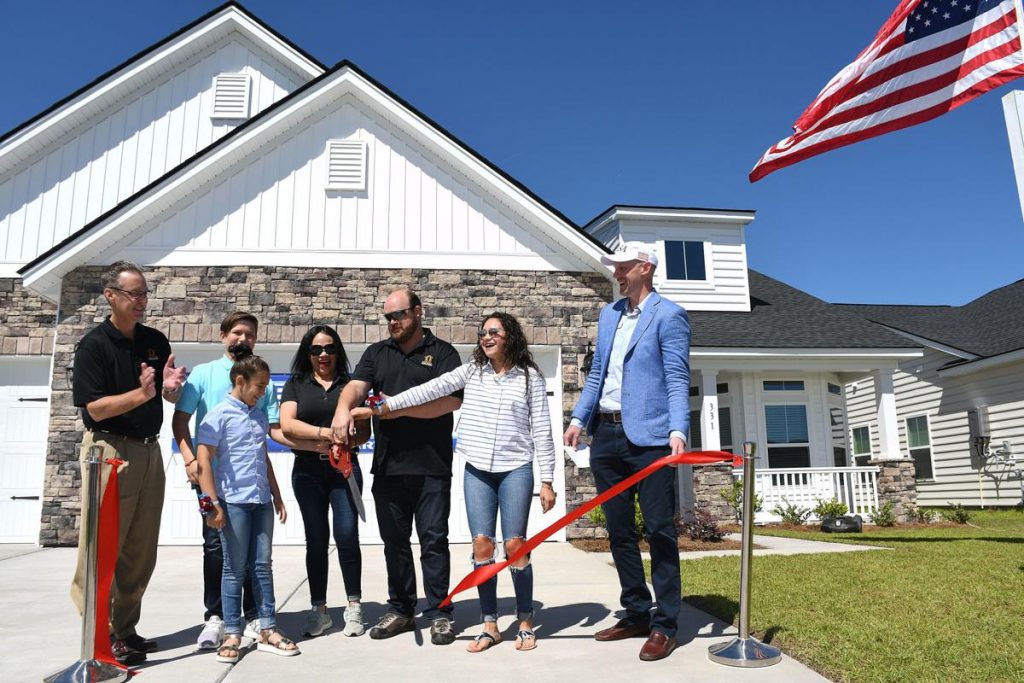 "There's no better country in the world, and it's because of people like Sgt. Matthew Weise," said Jason Byham, Lennar's division president.
Weise praised the unique process—ongoing since the end of 2018—as one that's "totally changing my family's life." And he and his wife Saray and their children weren't alone in the memorable merriment.
"It's good to see the American people come out and not only support me but support each other," Weise said.
That local support also stemmed from Berkeley County Supervisor Johnny Cribb, who spoke during the ribbon-cutting ceremony, and council members Caldwell Pinckney and Brandon Cox—both former military members. Pinckney served with the Army and in the Vietnam War; Cox was in the Air Force.
According to Cribb, awarding Weise a home is just a small token of appreciation that can and should be shown to military heroes.
"This is really how you treat folks when they come back," Cribb said.
For the last 15 years, Weise has been stationed at an Army base in Fort Bragg, North Carolina. The Florence, South Carolina native signed up for military service just months before 9/11 occurred. Weise was fresh out of high school and disliked the idea of college. He also had relatives, like his father, who had served.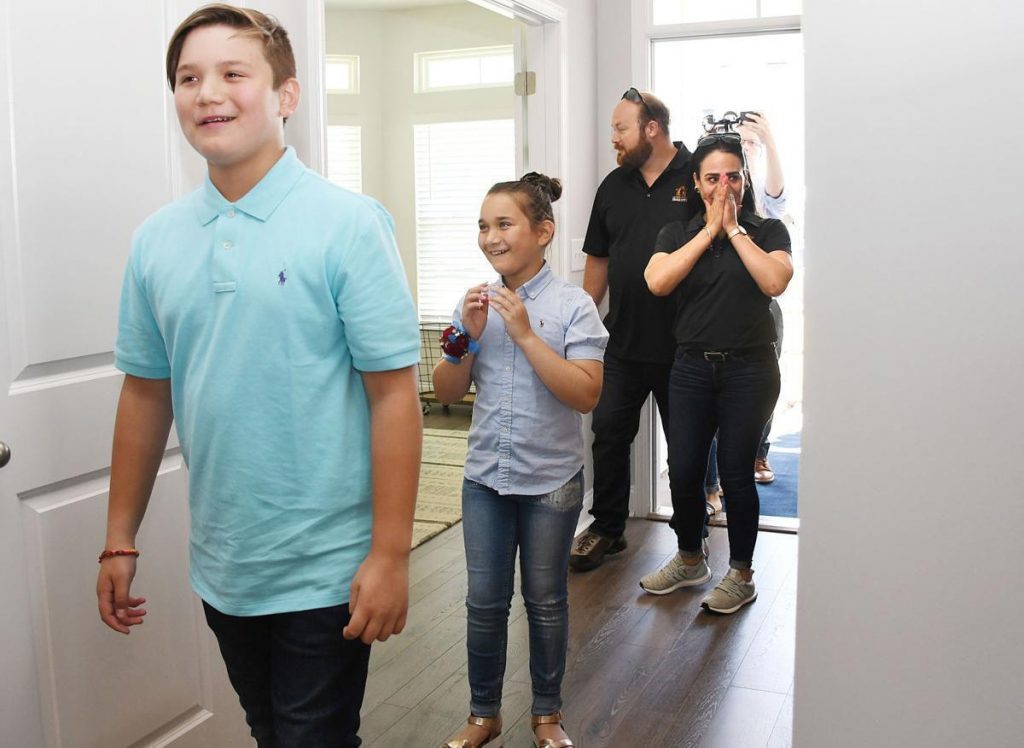 Weise never imagined his courageous decision would result in two Bronze Stars and two Purple Hearts; nor did he think his selfless duty would lead to an early retirement and lifelong trauma. The war veteran said he nearly lost his life during three of his six overseas missions to Iraq and Afghanistan.
Mortar attacks and IED explosions left Weise with a traumatic brain injury; he said post-traumatic stress disorder also now haunts him. That's why Lennar made sure to incorporate a special tranquil space for the military man to find respite from debilitating migraines.
Byham said at Weise's request, the couple's master bedroom was made completely soundproof. A wireless lawnmower was also donated, the master walk-in shower expanded, and Alexa technology wired into the home—also fully furnished as an added surprise.
"I'm not sure who's more excited about it," Byham said of the residence. "This has just been a labor of love. …Every single trade partner that we worked with stepped up and donated."
While Byham said Lennar would have build the home regardless, they were blown away by contractors' willingness to make the initiative more special by providing free materials and labor.
But even with war accolades and heroic acts attached to his service, Weise said he felt undeserving of the domestic gift.
"I was like, 'I don't deserve this,'" Weise said after his first walk-through of the home.
Byham thought otherwise.
"You're incredibly deserving of this honor; we wish we could do this for every veteran," he said.
According to Weise, he's now most looking forward to starting a new season, out of the military and near family—who live in the James Island and Charleston area.
"Getting in here and getting closer to family—just kind of getting away from the whole Fort Bragg Army aspect and kind of turn another chapter in my life," he said.
Construction crews broke ground on the home in February, and during the process Cane Bay community members wrote inspirational messages, dubbed "notes of love," along the house's framing. The family was later escorted throughout the home, prior to drywall installation, to read the encouraging words.
It was New Year's Eve that the family first learned they had been chosen for Operation Finally HOME. They were live on the FOX and Friends news show, thinking they were visiting New York to discuss Weise's war experiences.
Their home is the 151st one the nonprofit has donated since its inception in 2005. To date, Operation Finally HOME has worked on more than 250 projects in 33 states, according to its website.
Article By Jenna-Ley Harrison jharrison@journalscene.com. Images: The Berkeley Independent.