Portland, Ore. – September 2018 – Don't wait any longer – find your fresh new start this fall with a wide selection of quick move-in homes and fantastic savings available now. With Lennar's Buy Now Save Big event, you can save thousands when you purchase and close on a new home by November 30th, just in time for the holidays and new year. With stunning homes situated in great neighborhoods throughout the greater Portland metro area, including Happy Valley, Tigard, Portland, Forest Grove, Gresham and Tualatin, it has never been easier to discover a home that's right for you.
"There's no better time than now to upgrade your lifestyle with a new home with our biggest sale event of the year," said Sia Howe, Marketing Manager for Lennar Portland. "Come out and find everything you've been searching for—beautiful homes, distinctive floorplans, great locations and incredible values."
Right now on select homes, when you close by November 30th, Lennar Portland is offering between $4,000 to $10,000 toward closing costs* and as low as 4.25 percent (4.313 percent APR) interest rate** when financing through their preferred lender, Eagle Home Mortgage, LLC.
Best of all, several homes are available for immediate move-in, so you can start living the good life today. Experience innovative floorplans designed for the modern family and for today's lifestyles, including open layouts that make entertaining easy, upscale kitchens with luxury countertops, spacious secondary bedrooms for the kids, covered patios for outdoor living and sophisticated master suites, plus select plans offer flexible spaces like generously-sized lofts and dens. Whether you're looking for a low-maintenance, single-story home, or a three-story home with a third-floor bonus room to curate the ultimate entertainment space, Lennar has you covered.
For buyers looking for additional space in their home, to accommodate parents, adult child or use as a guest suite or home office, select homes showcase Lennar's popular and innovative multigenerational floorplan, The Next Gen® – The Home Within A Home®. This design seamlessly connects a main home and private suite through a double access door, similar to adjoining hotel rooms, to allow for as much interaction or privacy residents' desire.
Included in each new Lennar home is their signature Everything's Included® program that adds tremendous value by including an array of today's most popular upgrades and features at no additional cost. Enjoy impressive countertops, energy-efficient and stainless steel appliances, high-quality cabinetry and much more. Select homes also boast home automation technology and Lennar's new Wi-Fi CERTIFIED™ home designs to deliver a more connected way to live.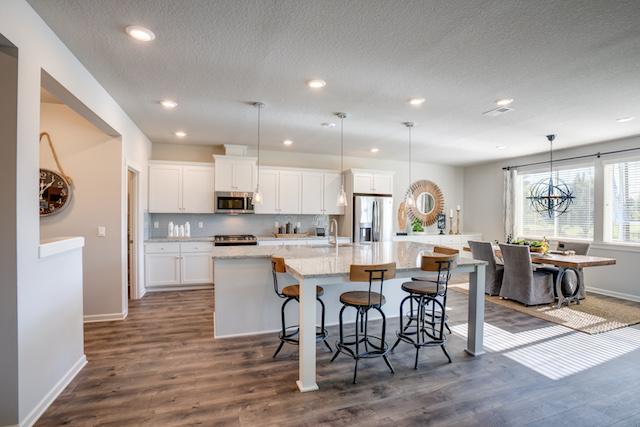 Your new home will put you in the center of Portland's best offerings and attractions, from local urban delights like food, music, beer, the arts and coffee, to jaw-dropping and scenic outdoor recreation.
Interested homeshoppers are encouraged to visit one of Lennar Portland's communities situated across the Portland metro area for model tours. For more information, visit www.LennarPortland.com.
About Lennar
Lennar Corporation, founded in 1954, is one of the nation's leading builders of quality homes for all generations. Lennar builds affordable, move-up and active adult homes primarily under the Lennar brand name. Lennar's Financial Services segment provides mortgage financing, title insurance and closing services for both buyers of Lennar's homes and others. Lennar's Rialto segment is a vertically integrated asset management platform focused on investing throughout the commercial real estate capital structure. Lennar's Multifamily segment is a nationwide developer of high-quality multifamily rental properties. Previous press releases and further information about Lennar may be obtained at the "Investor Relations" section of Lennar's website, www.lennar.com.
---
*Offer is limited to individuals that purchase their home directly from Lennar. Offer available on select quick move-in inventory homes in the Portland Metro and SW Washington area if the purchase agreement is fully executed between 09/10/2018 and 11/11/2018 and closes and fully funds on or before 11/30/2018. Purchase agreements fully executed prior to 09/10/2018 are excluded. At closing, Lennar will provide to buyer a credit in an amount not to exceed between $4,000 to $10,000 as determined on your Loan Estimate, excluding prepaids. Offers, incentives and seller contributions are subject to certain terms, conditions and restrictions, which may include use of designated lenders and closing agents.  Certain incentives could affect the loan amount.  Offer good for a limited time only.  Lennar reserves the right to change or withdraw any offer at any time.  Prices subject to change without notice.  Offer is subject to borrower meeting approval guidelines.  Rates and terms are subject to change without notice.  Contact a Loan Officer for financing details, or a New Home Consultant for home purchase details.
**Limited funds are available; rate may change or not be available at the time of loan commitment, lock-in or closing if funds are exhausted. Not an offer to enter into an interest rate or discount point agreement and any such agreement may only be done in writing signed by both the borrower and the lender. Specific terms apply and buyer is subject to qualification that includes, but is not limited to, a minimum of 10% downpayment, minimum credit score of 720, owner occupancy requirements and/or any changes in investor guidelines or programs. Jumbo loan amounts not permitted. Offer available through Eagle Home Mortgage and closing at designated closing agent. Lennar reserves the right to change or withdraw any offer at any time. Offer available to qualified buyers financing through Eagle Home Mortgage, LLC and closing at designated closing agent. Lennar Homes, LLC ("Lennar") and Eagle Home Mortgage ("Eagle") have business relationships with each other. Lennar and Eagle are, directly or indirectly, wholly owned by Lennar Corporation. Because of this relationship, transactions with Eagle may provide Lennar a financial or other benefit. You are NOT required to use Eagle as a condition for purchase of a Lennar home. You are free to shop around to determine that you are receiving the best services and the best rate for these services. For additional information please visit their websites at www.eaglehm.com and www.Lennar.com. Eagle's loan process is a voluntary program and participation is not required in order to purchase a home from Lennar Homes, LLC. Requesting a loan prequalification and making a loan application do not constitute a loan approval or otherwise indicate that a consumer has or will qualify for a loan from Eagle or any other lender. Financing is not guaranteed and not all consumers will qualify to purchase a Lennar home.. The specific features in a home may vary from home to home and from one community to another. We reserve the right to substitute equipment, material, appliances and brand names with items of equal or higher value, in our sole opinion. Color and size variations may occur. The prices of our homes, included features, and available locations are subject to change without notice. Please see the actual home purchase agreement for additional information, disclosures and disclaimers relating to the home and its features. Plans are artist's renderings and may contain options which are not standard on all models. Lennar reserves the right to make changes to plans and elevations without prior notice. Stated dimensions and square footage are approximate and should not be used as representation of the home's precise or actual size. Any statement, verbal or written, regarding "under air" or "finished area" or any other description or modifier of the square footage size of any home is a shorthand description of the manner in which the square footage was estimated and should not be construed to indicate certainty. Garage sizes may vary from home to home and may not accommodate all vehicles. All maps are not to scale, and are for relative location purposes only. Visit Lennar.com or see a Lennar New Home Consultant for further details and important legal disclaimers. This is not an offer in states where prior registration is required. Void where prohibited by law. Copyright © 2018 Lennar Corporation and Eagle Home Mortgage. All rights reserved. Lennar, the Lennar logo, Eagle Home Mortgage and the Eagle Home Mortgage logo are U.S. registered service marks or service marks of Lennar Corporation and/or its subsidiaries. Date 9/18 Eagle Home Mortgage, LLC – NMLS # 1058. Consumer Loan License # CL-1058. Mortgage Lending License # ML-5079, 7320 SW Hunziker Street, Suite 300, Tigard, OR 97223. CCB#LENNAN1893QG. CCB#195307.